Applejack in the United States, Calvados in France and apple brandy as a generic term-whatever you call it, it provides a delicious fruity flavor and a tempting aroma to this cocktail.
Ingredients: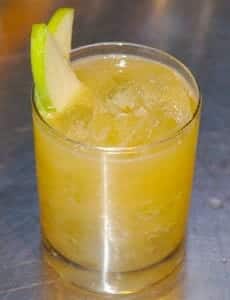 4-6 cracked ice cubes
Dash of yellow Chartreuse
2 measures apple brandy
1 measure gin
1 measure dry vermouth
Method:
1. Put the cracked ice cubes into a mixing glass.
2. Dash the Chartreuse over the ice and pour in the apple brandy, gin and vermouth.
3. Stir well to mix, then strain into a chilled glass.