Pimm's No.1 is a long, deliciously dry but fruity concoction, with a gin base flavored with herbs. It was devised by James Pimm, a London restaurateur, in the late 19th century and was quite probably the original Gin Sling.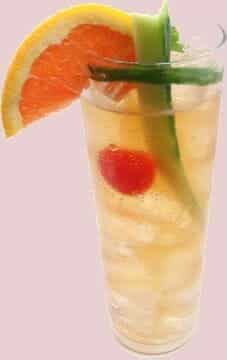 Ingredients:
1 measure Pimm's No.1 lemonade
Strips of cucumber peel, sprigs of mint or borage, slices of orange and lemon,
To decorate.
METHOD:
Fill a large chilled glass two-thirds with ice and pour in the Pimm's.
Top up with lemonade and stir gently.
Dress with a twist of cucumber peel, a sprig of fresh mint and slices of orange and lemon.