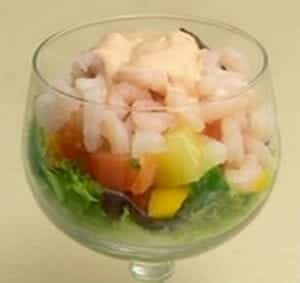 Ingredients:
King Prawns – 750 gms,  peeled, deveined, shelled and cooked
Cucumber – 1/2, peeled, diced
Mango – 1/2 big  or 1 small, stoned, peeled, chopped
Avocado – 1/2 big or 1 small, ripe, diced
Lettuce Leaves – few
Lemon Wedges
For the sauce:
Mayonnaise – 1/3 cup
Tomato Sauce – 1/2 tblsp
Worcestershire Sauce – 1/2 tsp
Tabasco Sauce – 1 or 2 drops
Method:
1. Combine the sauce ingredients in a bowl and keep aside.
2. Mix the mango, cucumber and avocadoes in a bowl.
3. Place a lettuce leave on a serving glass and spoon over the chopped cucumber, mango and avocado mixture.
4. Top up with the prawns and spoon some of the sauce over.
5. Serve with lemon wedges at once.