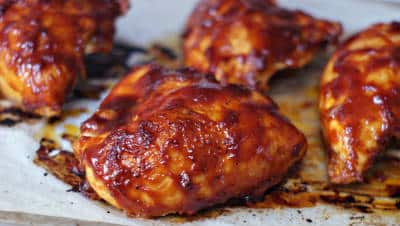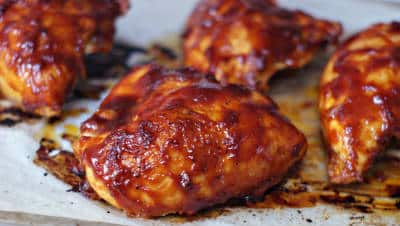 Ingredients:
Chicken Breasts – 750 gms, skinless, boneless
Olive Oil (Or regular cooking oil) as required
Barbecue Sauce – 275 ml (available in most major supermarkets)
Method:
1. Drizzle a baking tray with olive oil.
2. Place the chicken breasts in the tray.
3. Brush them with half of the barbecue sauce and cover with foil.
4. Place the tray in a preheated oven at 175C/350F.
5. Bake for 30 minutes or until chicken is cooked and tender.
6. Remove and discard the foil.
7. Drain and discard the liquid in the tray.
8. Brush again with the remaining sauce.
9. Place the tray in the oven and cook for 15 minutes or until the sauce is thickened.
10. Remove and serve hot.