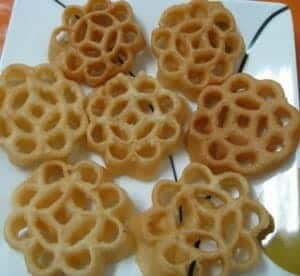 Ingredients:
Raw Rice Flour – 1 cup, lightly roasted
Gram Flour – 2 tsp
Toor Dal Flour – 2 tsp
Red Chilli Powder – little
Salt – little
Oil as required
Method:
1. Combine the rice flour, gram flour, toor dal flour, red chilli powder, salt and enough water in a bowl.
2. Mix well to a idli batter consistency.
3. Heat oil in a pan.
4. Add the dough to a achu murukku press (mould).
5. Gently squeeze over the hot oil and fry till light golden brown.
6. Remove and drain excess oil.
7. Serve.