7 Cup Cake (or 7 Cup Burfi as it is also known) is a popular and easy to make Diwali sweet. The name comes from the fact that when all the ingredients are combined it makes 7 cups.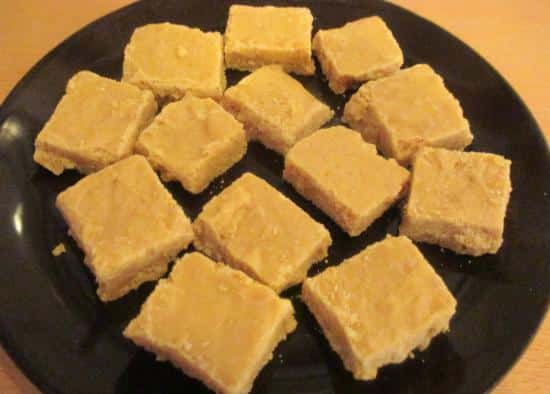 Ingredients:
Gram Flour – 1 cup
Ghee – 1 cup
Coconut – 1 cup, grated
Milk – 1 cup
Sugar – 3 cups
Cashew Nuts – few, crushed
Method:
1. Combine all the ingredients in a heavy-bottomed pan.
2. Place it over medium flame and keep stirring continuously.
3. When it starts to leave the sides of the pan, remove and pour into a greased plate.
4. Cool and cut into desired shapes.
5. Serve.
image via Tamil Kitchen Youtube video
Subscribe to our Newsletter
Receive the latest recipes & kitchen tips !