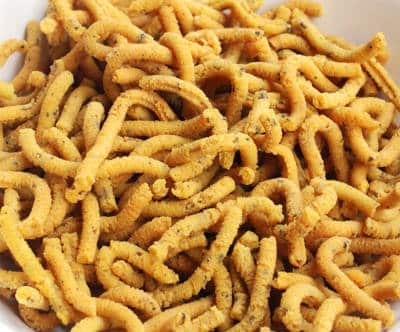 Ingredients:
Gram Flour – 200 gms
Rice Flour – 50 gms
Black Peppercorns – 1/2 tsp, powdered
Sugar – 150 gms
Asafoetida Powder – little
Cardamom Powder – little
Oil for frying
Salt as per taste
Method:
1. Combine the gram flour, rice flour, salt, asafoetida powwder and pepper powder in a bowl.
2. Add little water and mix well to a chapati dough consistency.
3. Heat oil in a pan.
4. Using a large carrot grater, rub the dough on top of the hot oil. Take care while doing so.
5. Fry till light golden brown and remove.
6. Add little water to sugar and bring to a boil.
7. When the sugar has fully dissolved, stir vigorously till it starts to become fluffy.
8. Add the cardamom powder and fried karasevs.
9. Stir well.
10. Store in an airtight container.
11. Serve.
Note: image is for illustration purposes only and not that of the actual recipe.