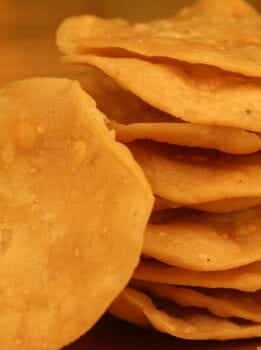 Ingredients:
Raw Rice Flour – 2 cups
Roasted Gram Flour – 1/2 cup
Urad Dal Flour – 1/4 cup
Mint Paste – 2 tsp (ground at home or readymade)
Peanuts (Groundnuts) – 50 gms, roasted and coarsely ground
Butter – 1 tblsp
Red Chilli Powder as per taste
Asafoetida Powder – little
Salt as per taste
Oil to fry
Method:
1. Dry roast the rice flour till golden and remove.
2. Allow it to cool.
3. Add gram flour, urad dal flour, mint paste and peanuts.
4. Add salt, red chilli powder, butter, asafoetida powder and little water.
5. Mix well to a thick dough.
6. Make small balls of the dough and flatten them onto a clean, white cloth.
7. Heat oil in a deep frying pan.
8. Fry the prepared thattais till golden.
9. Remove and drain excess oil.
10. Serve.
Note: image is for illustration purposes only and not that of the actual recipe.