A variation of the regular Adhirasams, this one is made with sugar and cashewnuts.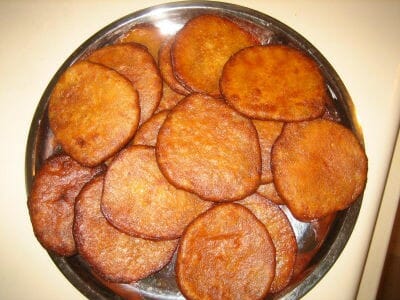 Ingredients:
Raw Rice Flour – 2 cups
Sugar – 3 cups
Cardamom Powder – a pinch
Cashewnuts – 2 tblsp, powdered
Oil – 300 ml
Milk – 1 tsp
Method:
1. Pour 3/4th cup of water to sugar and boil for 10 minutes.
2. Add 1 tsp milk and remove the scum that rises to the top.
3. Simmer till it reaches an one string consistency.
4. Add rice flour, cashewnuts, cardamom powder and mix well.
5. Make small balls of the dough and roll them into small puris on a greased plastic sheet or banana leaf.
6. Heat oil in a deep frying pan.
7. Fry the prepared adhirasams till light golden.
8. Remove and drain excess oil.
9. Serve.
Note: image is for illustration purposes only and not that of the actual recipe.