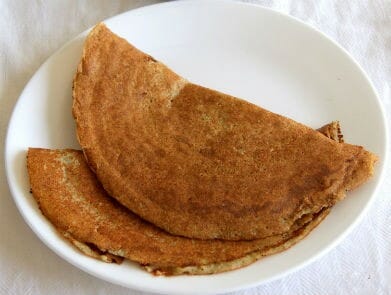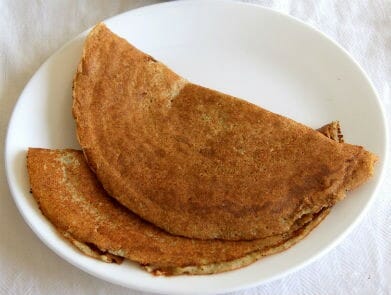 Ingredients:
Parboiled Rice – 1 cup
Raw Rice – 1/2 cup
Urad Dal – 1/4 cup
Bengal Gram Dal – 1/4 cup
Moong Dal – 2 tsp
Coconut – 1/4 cup, grated
Green Chillies – 5
Ginger – 1 tsp, grated
Cumin Seeds – 1 tsp
Asafoetida Powder – a pinch
Salt as per taste
Oil as required
Method:
1. Soak the rice and dals (except moong dal), separately, for 2 to 3 hours.
2. Grind them together with cumin seeds, ginger, coconut, green chillies and asafoetida powder to a coarse batter.
3. Soak the moong dal separately and add to the batter.
4. Mix well.
5. Heat a tawa over medium flame.
6. Pour a ladleful of the batter and spread evenly.
7. Apply oil around the edges and cook on both sides till light golden brown.
8. Remove and serve with chutney or idli milagai podi.