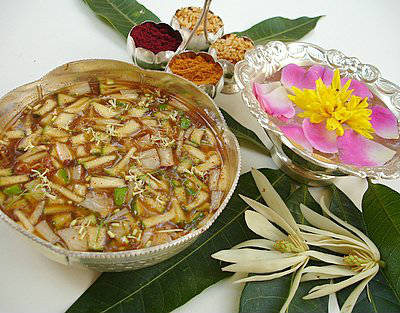 Ingredients:
Neem Flower – 2 tsp
Jaggery – 1/4 cup, powdered
Tamarind Extract – 1 cup, thick
Green Chillies – 1/2 tsp, finely chopped
Raw Mango  1 tsp, grated
Salt as per taste
Method:
1. Mix the jaggery and tamarind extract.
2. Stir well till the jaggery has completely dissolved.
3. Add neem flower, mango, green chillies and salt.
4. Bring this to a boil.
5. Remove the pan when the mixture is thick.
6. Serve.