The International Mango festival provides the opportunity of a lifetime to savor around 1100 varieties of mango on a complimentary basis and bask in the soul stirring flavor of luscious king of fruits. The festival is an initiative by the Delhi Tourism and Transportation Development Corporation in collaboration with other relevant organizations such as Agricultural and Processed Food Products Export Development Authority, the National Horticultural Board and the New Delhi Municipal Council to give wide exposure to the lip smacking varieties of mangoes from different Indian states.
The festival was first organized in 1987 and since then it is regularly held annually in the early summer and span for two days. The festival is a lavish exhibition of traditional as well as the hybrid varieties of mangoes. The spectacular feast for the eyes is materialized by a potpourri of traditional mango types such as Langda Mango, Dasheri Mango, Alphonso Mango, Fasli Mango, Bombay Green Mango, Sindheri Mango, and Chausa Mango. The mango extravaganza invites you to lose your soul and heart to the delectable varieties of sweet mangoes. Your hankering for mangoes will be satisfied optimally.
The experience is taken to the next level by the organizers through full-fledged competition amongst mango growers. Quiz, children's shows, folk performances and mango eating competition add a different dimension to this vivid show. The appeal and attractiveness of the show are heightened by such competitions.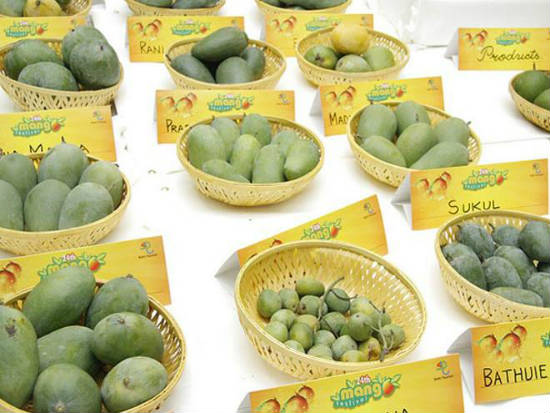 The International Mango festival is also aimed at providing a global market to this Indian specialty. Traders from across the globe flock this fiesta and engage in vigorous trading of the fruits. The very glimpse of the lush mangoes will lift your spirits and fill you with optimism. The succulent fruit can be tasted free of cost at this festival. A select bunch of prominent mango growers of foremost mango producing states like Uttar Pradesh, Bihar, Delhi and Gujarat are provided with an interactive platform for a colorful presentation of mangoes. Mango traders are provided with an international platform to look for potential avenues for increasing mango export as well as promote tourism. The festival attempts to attract precious foreign currency in India.
Most people are of the opinion that mangoes do not exist beyond the five to six well recognized and widely known varieties. This myth is shattered through educative programs organized around well decked up quizzes and competitions. Mango is a gastronome's delight and this is established through presentation of a number of savory cuisines all prepared from different mango varieties. Various entertainment programs consisting of music and dance add color to the extravaganza. The biggest mango of the show is honored by providing the owner with gifts.
Visitors can view and taste different varieties and cultivars of mangoes. Prominent varities that are showcased include alphonso, mallika, amrapali, himsagar, malda, balia, chorasya, dhaman, dhoon, fazia, gelchia, nigarin kheria, ruchika and shamasi. The experience is intensified further by the culinary preparations presented by top chefs from reputed five star hotels like Inter Continental Hotel, Hotel TajMahal, Claridges, Qutub Hotel, Maurya Sheraton and Marriott India.
The festival provides a strong platform for agro and food processing industries to showcase their products classified as jams, pickles, fruit juice and canned fruit. International Mango Festival has contributed immensely in taking the annual foreign currency earned from the export of mangoes and mango based products to about $88 million. The figures are expected to rise dramatically after this year's show. Mango exports have crossed the 40,000 metric ton figure.
The international Mango festival is a grand way of celebrating India's age old association with this king of fruits.
image credit: http://www.pardaphash.com/news/25th-international-mango-festival-begins-in-delhi/717176.html
Subscribe to our Newsletter
Receive the latest recipes & kitchen tips !