The soaring mercury has announced the onset of summer. Silky, delicious ice creams that melt in your mouth and offer divine pleasure are up for grabs. It is a daunting task to pinpoint top picks, but five most popular choices have been shortlisted over here to make you start slurping the scrumptious sundaes.
Black Walnut and Peach Flavors
The Black Walnut Ice Cream being served in a glass tastefully decked with black walnuts and having a topping of honey, caramel sauce, dry grapes and powdered pista is absolutely divine. English walnuts are not used in this variety. The fresh 'Peach Ice Cream' will have you drooling with its awesome taste pulled off by sliced peach stuffed pista variety having red cherries topping.
Raisins/Cashew & Natural Fruit Flavors
The yummy flavor available as Arabian Delight is packed with raisins and cashews, minus the distracting raw aroma of the cashews. Caramello is another awesome flavor. This seasonal natural fruit ice cream with a wide variety of participating fruits will soothe your senses and they will run amok craving for more of this delectable dessert.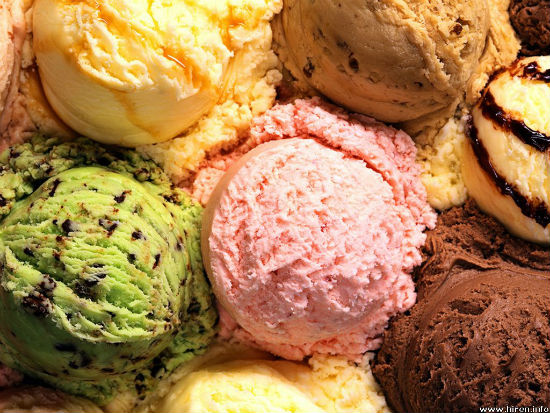 Blue Raspberry/Chocolate Flavor
The explosive taste of the Splish Splash variety will drive you insane, leaving you yearning for more. This delectable ice cream is blue raspberry sherbet with uniform swirling of blueberry sherbet. Thunder n' lighting is another mind blowing chocolate fudge ice cream. Milk chocolate flavor and chocolate pieces have been blended adequately in the correct proportions to form this rich, silky and creamy ice cream, the very sight of which will leave you driveling. Baskin Robbins Ice Creams are a delight for gluttons who eagerly wait for summers to lay their hands on the incredibly delicious range of sundaes that are going to make their way into the market. This internationally acclaimed brand has been setting new benchmarks in the ice cream industry.
Honey/Kesar-Pista Flavors
These lip-smacking varieties of ice creams will transport you to the realm of the divine when you savor the rich taste of these mouthwatering sundaes. The Honey Dew Melon ice cream is suffused with the beautiful taste of natural honey. The experience is greatly heightened by the presence of Karuk-morook dry fruits and nuts. Another variety Kesar-Pista has come under fire from some critics as it is termed cloying. But, the immaculate taste of this luscious delight will simply get the best of you. You will not be able to curb the temptation to eat more.
Tutti Fruitti Litchi Flavor
Special Tutti Fruitti Litchi has the potential to set the stage of lusciously flavored ice-creams on fire. The compelling taste of this flavor can be attributed to the Litchi essence that has been embedded within the richness of chocolate. The ice-cream will mellow the impact of this hot weather. The palatability of the ice cream is proven. It has become an instant hit with the taste starved populace. The taste will simply engage your senses. You can enjoy it in combination with flavors that rule the market encompassing Chocolate Feast, Cornetto, Rasberry Dolly and Choco-Bar.
An entire array of delectable and quality ice creams in the aforesaid range is available, the delicious taste of which is sure to linger in everyone's memory that is an ice-cream buff.