The Sunday roast is a very old tradition that still seems to be the epitome of British culinary culture today. Every food pub in the UK will offer a delicious roast dinner on a Sunday for those who don't fancy the washing up, and families all over the country love to sit down together of a Sunday and tuck into some roast beef and potatoes.
You don't have to be a matriarch or chef to host your own roast dinner however. It's a great time to have your friends over, cook for the masses and enjoy a cosy Sunday.
Achieving an amazing Sunday roast is a skill every Brit should learn sooner or later, so here is my guide on how to host that perfect Sunday dinner that your friends and family will enjoy and remember…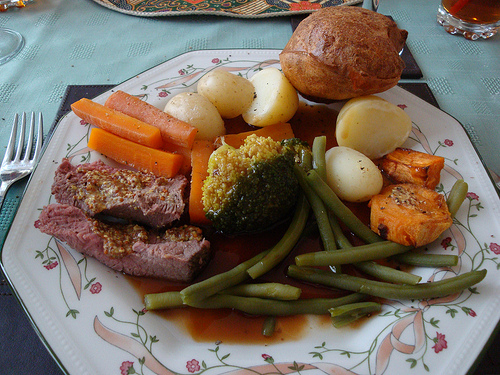 Your guests
Invite a number of guests that you are comfortable with. Don't invite 10 people if you know you only have 6 plates and a medium sized baking tin.
Let them know in good time that they're invited; you don't want to spend time planning your Sunday if the friends you planned to invite have booked a table at their local. Let them know the week before!
When they arrive, greet them warmly and serve some nibbles and drinks in the living room while you put your finishing touches on the roast itself.
Your food
Obviously the most important part of your Sunday dinner is the actual food. Make a trip to your local butcher and have them select the best cuts of organic meat possible. Always have a vegetarian option just in case, unless you know your invitees really well. Don't worry about having too much food – leftover roast makes an amazing packed lunch come Monday!
On the morning of your dinner party, prepare the meat as lovingly as you can. Whether you choose lamb, beef or turkey, season it, marinade it and add whatever herbs and spices you find the most flavoursome. I like to infuse mine with rosemary, garlic and red wine.
Brush the potatoes with olive oil or decadent goose fat and season them well before roasting them for a good 45 minutes. Try serving a side dish that not everybody has had before, like lentil and cheese rissoles.
For your vegetables, by all means keep them traditional, but you can always try a new seasoning or added ingredient for a change. Try garlic, ginger or paprika!
Serve your dinner with a nice bottle of red to compliment the meat and make your guests' cheeks nice and rosy!
Your table
A Sunday dinner is a special meal so go ahead and use your best dinner set and crystal wine glasses. Add some table decoration like a pretty centrepiece or some nice candles to give it a festive feel.
Make sure the table is level and none of the chairs are wobbly; you want your guests to be comfortable! Mix your guests up as well, so if a couple of your guests don't know the others, sit them together so new friendships can be made.
Your home
No need to spend a day and a night spring cleaning your house, but make sure it's clean, tidy and presentable.
Fluff the cushions, light some scented candles and put on your favourite CD of chill-out music to soften the mood. Leave a stack of CDs by the stereo so your guests can choose, if they so wish.
This may be stating the obvious but you'll need to make sure things are comfortable before your guests arrive, so put the heating on, have a space out of the way that they can leave their coats and make sure your bathroom has toilet roll, hand soap and a clean hand towel. Nothing's more embarrassing than needing to ask for toilet roll at someone's house.
This may all seem rather formal, especially if you know your guests well. Even if they're dear old friends, they'll appreciate the effort you've gone to and will enjoy such a civilised Sunday.
If your dinner itself is well prepared and tastes delicious, your culinary and hosting skills will be remembered. It may mean that Sunday dinner will always be hosted by you, though!
Do you have any useful tips on how to host a Sunday roast?
---
Estelle Page is an interior designer who loves putting her carefully-chosen dining room furniture to good use by hosting regular 'lunch parties' for her friends!
Image by mdid
Subscribe to our Newsletter
Receive the latest recipes & kitchen tips !