Indian food is growing popular globally day by day but the Indians themselves are experiencing a growing taste for foreign dishes in recent years. Today there are several global food chains available in India and most are fully packed with customers but Mexican food remains a favorite among many Indians today. This is because the food taste similar to Indian food and this is what makes Indians love Mexican foods. Here is a quick look at some favorite Mexican foods in India today:
Mexican or Spanish Rice
This Mexican food has been rated as a favorite among many Indians and carries a whopping 5/5 rating on reviews. The dishes orange hue and distinctive Mexican spice flavors are what make it a favorite. It goes well with almost anything as a side dish so this is one you don't want to be missing.
Chile Rellenoes
These are green peppers stuffed to the brim with cheddar cheese. The peppers are then dipped in egg batter and coated with corn flour before being deep fried till golden brown. For cheese lovers this dish is a pure bonanza making it the second most favorite Mexican dish in India.
Flan
Flan is more of a dessert than a food but it among the favorites in India. It comprises of a creamy custard desert coated in caramel sauce. Flan also has an amazing review ranking in 5/5.
Tres leches cake
This is another desert dish which comprises of cake dipped and soaked in sweetened milk syrup. This gives the cake a creamy consistency which makes it melt down your pallet while eating. You're sure to be licking your finger after having Tres Leches cake and asking for a second serving.
This is a dish that resembles a casserole and it comprises of a mixture of chicken, pork and sea or cured meat mixed in loads of cheese and coated in a layer of mashed potatoes with another layer of cheese on the top of a casserole dish. This results in a mouth-watering combination that is sure to have you asking for more. The dish is very popular due to its diversity of ingredient since you can stuff any meat you like into the mix and still be sure it would deliver and awesome taste
Although tortillas have a higher ranking in Mexico, they are ranked sixth in India but this still means loads of people just adore them. This is because they are a small bundle of pure pleasure. They can be stuffed with practically any stuffing and could be rolled into spring roll like potions which are loved by kids.
If you love fish and seafood then this is the Mexican appetizer that will have you licking your fingers. It consists of tangy seafood "predominantly shrimp" mixed with fresh veggies and loads of cheese cubes. This appetizer can be used as a topping for tortilla chips to deliver a mouthful of pleasure.
Chile Verde
This is a stew made using Chicken, or Pork and the two can also be combined. This meal is healthy and meant to be filling so if you look for a healthy appetite, you should consider taking on this delicious stew.
Salsa Mexicana
Do you like your veggies? Well this one is for you. This dish comprises of tomatoes, onions, cilantro, and lime juice. If you like cheese you could add this as well to deliver a spectacular veggie salad.
Well you haven't eaten Mexican food until you tasted the taco, this dish is distinctive with Mexicans and carries a taste and aroma that going to have you ordering another serving. The stuffing varies but frankly every taco is simply adorable to eat.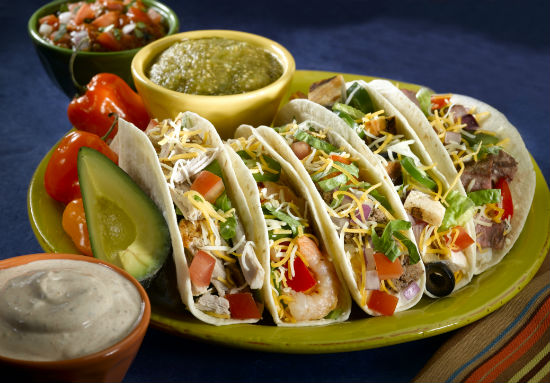 Subscribe to our Newsletter
Receive the latest recipes & kitchen tips !