New Year is fast approaching and everyone is eagerly and happily waiting to welcome it. Here are some unique foods to serve at New Year' eve party.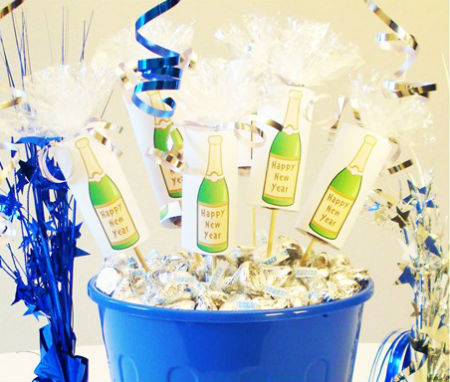 YUMMY LIME PIE
Ingredients
1 tin of sweetened condensed milk
Yolks of 4 eggs
Half a cup of lime juice
A few drops of food color
One Graham cracker crust
Preparation:
Beat together the egg yolks and the food color, and mix it with the condensed milk. Add lime juice, and mix well.
Now, pour the mixture into Graham cracker crust. Set at 325 degree and bake for 18 mins.
Freeze it for about 15 minutes and then serve.
BREAD PUDDING
Ingredients
Half a cup of raisins
Three Eggs
Ten slices of White bread
Half a cup of water or brandy
One cup of brown sugar
1 teaspoon vanilla
Three cups of scald and cooled milk
One teaspoon of cinnamon
One fourth of a cup of melted margarine or butter
¼ teaspoon of allspice
¼ teaspoon salt
Preparation:
Soak the raisins in either water or brandy and keep it aside. Mix brown sugar, allspice and cinnamon, and reserve three tablespoons of it for the topping.
Break the bread, and pour the melted butter or margarine over the crumbs, and coat them with the rest of the sugar mixture.
Grease a baking dish with butter and put half of the bread mixture in it. Now remove the raisins from brandy and place half of it over the bread mixture.
Repeat the layers once more.
Take a bowl and beat together egg, vanilla and salt. Mix in the milk and pour it into the baking dish. Leave it there for five minutes.
Top it by sprinkling the sugar mixture reserved. Set the oven at 325 degrees and bake for 50 minutes.
CHOCOLATE TOFFEE GRAHAM TREATS
Ingredients
Honey gram crackers – 11 no's (break them into squares)
One cup of sugar
One cup of butter
Two cups of semi sweet chocolate chips
Half a cup of finely sliced pecans
Preparation:
Preheat the oven to 350F.
Take a baking sheet and put the cracker squares in such a way that they form a layer.
Mix sugar and butter in a pan and let it melt and boil for two minutes.
Put off the fire and add the pecans.
Now, put this mixture over the crackers layer such that all the crackers are completely covered.
Bake for ten minutes.
Take it out of the oven and evenly spread its top with chocolate chips. When the chocolate chips melt, level it flat to cover the top.
Cool and remove the squares to a cookie sheet lined with wax paper.
Put them in the refrigerator till they harden.
CHEESECAKE CUPS
Ingredients
White sugar- 3/4th of a cup
Vanilla wafer cookies – 16 no's
Eggs – 2 no's
Cream Cheese – 250 g
Vanilla extract- 1 teaspoon
Preparation:
Preheat the oven to 350 F.
Take cupcake papers and apply them to the muffin pans.
Put a wafer cookie in each of them.
Blend together the sugar and cream in a bowl.
Beat together the vanilla extract and the eggs to make them smooth.
Pour this mixture over the wafers in the muffin pans.
Bake them for about 15 minutes in the oven.
-Remove, cool and add toppings like chocolate chips, dry fruits, or caramel sauce.
SWEET POTATO CASSEROLE
Ingredients
Sweet potatoes (boiled, peeled and mashed)- 3 cups
Sugar- Half a cup
Eggs – 2 no's (beaten)
1/4th of a cup of margarine (melted)
Half a cup of milk
One and a half teaspoons of vanilla
For topping:
Brown sugar – 1 cup
Refined flour- 1/3 cup
Finely sliced pecans- 1 cup
Margarine (melted) – 1/3 cup
Preparation:
Mix together the sweet potatoes, sugar, margarine, eggs, vanilla and milk.
Place in a baking dish lined with butter.
Mix together the ingredients given for topping and spread it over the mix.
Set the oven at 350 F and bake for 40 minutes.
Subscribe to our Newsletter
Receive the latest recipes & kitchen tips !