Thanksgiving Dinner might seem to be a novel concept for Indians, but is simply the age old celebration of family members gathering under one roof and celebrating the night under the veil of offering gratefulness for everything good in their lives. Although the idea is being borrowed from Americans, it does not mandate adopting their dishes to revel in the moment. An Indian touch can be added to the concept by having a bash with Indian cuisine.
Scrumptious Indian dishes will not tax your taste buds and will be easy to prepare giving the feeling of fusion cooking. A few of the dishes are being discussed herewith.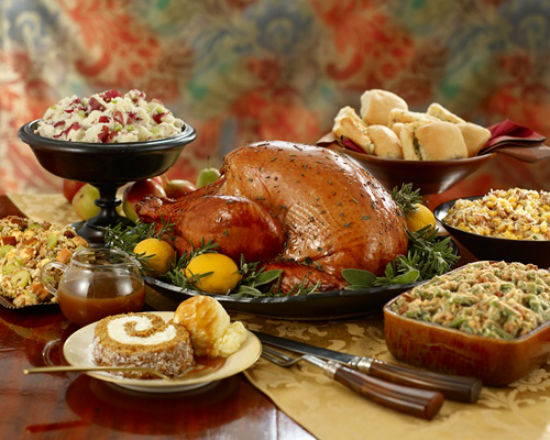 Pumpkin Thepla
The ingredients are simple. You will require half of a small red pumpkin that has been properly peeled and grated. Other ingredients required will be two cups of wheat flour, one tablespoonful each of coriander powder and paprika, salt as per taste, a half tablespoonful of carom seeds or thymol seeds, water, wheat flour for dusting purpose and oil for frying. The pumpkins should be grated properly with a sharp blade.
The dough is to be kneaded along with other ingredients with water being sprinkled in slender amount. Keep the dough covered and allow it to sit for about half-an-hour. Small balls are to be made and rolled into theplas. It is to be then shallow fried on the pan moistening with a smidgen of oil. The thelpa is to be then wrapped in a neat kitchen napkin until baked properly.
Sweet Potato Pudding, Mergol
The delicacy hailing from South Canara (Dakshina Kannada or South Kannada) can be prepared by putting into use a mere four to five ingredients. The taste will leave you speechless and the dessert will be a welcome change deviating from the dull daily recipes.
The ingredients required will be one large sweet potato, one can of coconut milk, four tablespoonfuls of jaggery, nine peeled cardamoms, and optionally three threads of saffron.
Embark on the divine dessert by pressure cooking sweet potato followed by thorough peeling and grating. The jaggery is to be commingled with coconut milk. The grated sweet potato is to be mixed thoroughly with crushed cardamoms. Enhance the flavor by adding saffron.
Light coconut milk can be used. You can also opt for cubed sweet potato rather than taking the pain of grating it. The taste can be altered by fine tuning the quantity of cardamom to be added.
Cranberry Methamba
The ingredients required will be one bag of fresh cranberries, one tablespoonful each of mustard seeds, paprika and oil, one-fourth tablespoonful of asafetida, half tablespoonful each of turmeric powder, fenugreek seeds, half cup of jaggery and salt as per taste.
The cranberries are to be rinsed and dried adequately. The berries are then pulsed in a food processor until only bits are left. Exercise caution not to make it soggy. Oil is to be heated in a saucepan with asafetida, turmeric powder, mustard and fenugreek seeds added later on. Once you observe spluttering of seeds, crushed cranberries are to be added. After stirring the mixture, cover the same with lid. A low flame is to be kept with occasional stirring during cooking for about nine minutes. Paprika, salt and jaggery is to be added at this stage. The jaggery will start melting releasing water. The mixture is to be cooked till the entire trace of liquid disappears. Once the mixture cools, it is to be poured into a mason jar and refrigerated. The tart Cranberry Methamba is sure to appeal to your senses of taste and scent.
Try these Indian dishes and transform your Thanksgiving occasion into a native style celebration.
Happy Cooking!