Now that the modular system has become a must-have in every Indian household, women are looking at new and improved ways to get the most up-to-date kitchen they can afford. No other room receives the kind of attention that a kitchen does and it is not at all unwarranted, since more than 50 per cent of the time spent inside the house is spent in this room itself.
So it makes sense when the kitchen is called the heart of a house. The aim of this article is to provide you with a brief insight into products that are creating waves in the market right now.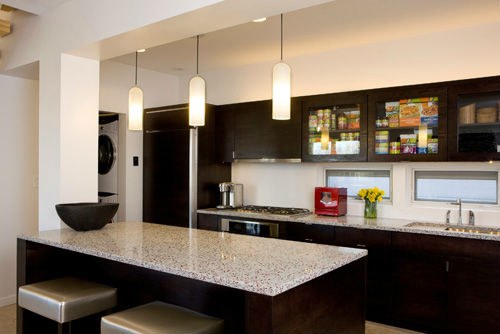 Kitchen storage and fittings: There are scores of women out there who breathe a sigh whenever ads for a superior modular system come on. You can see amazing designs, vibrant colours and an allotted slot for every conceivable item. It is not all difficult to acquire these for your own abode.
In an age when even ovens and mixer-grinders are hidden behind panels, there is an acute requirement for adequate storage space. The look that needs to be created is not a clustered and claustrophobic environment but a free-flowing space that will use the natural lines of the kitchen to create quality storage area with enough legroom to move about freely.
Multi-purpose compartments can create more space to put away items using their drawer-within-a-drawer range which opens up every which way. These can be horizontal, vertical, flat or cornered as per your requirement. In this way you can store more items inside one single space and avoid opening multiple drawers during your cooking sessions.
Fittings should also include handles which can withstand heavy-duty usage. Kitchen furniture and fittings from Hafele, Hettich and Roco among others are some of the more modern and innovative designs today.
Ventilation: Another important application in a modern kitchen is the chimney or hood. These can be cooking range hoods or island hoods which will keep the kitchen environment freshly ventilated. Their function is to clear out the scent of hot spices, steam and other odours which might otherwise slowly spread out into the rest of the house. Latest hood ranges from Elica, Faber and Kaff among others have a wide range of designs that will be functional as well as give your overall decor an aesthetic appeal. Other designs coming soon to Indian shores will provide users with non-traditional chimneys which will look like contemporary sculptures and wall hangings as opposed to normal hoods.
Working surface: Lastly, it is important to make sure the kitchen remains clean and tidy since this is the only area of the house besides the bathroom which can very easily fall prey to heavy usage and become dirty, smelly and stained. In view of this fact, kitchen furniture manufacturers provide stainless steel or other easily cleanable surfaces.
Work areas can be made of granite rather than marble since these remain relatively stain-free and are immensely easy to clean. Even the nook behind the cooking counter can be kept tiled or smooth-walled to enable easy cleaning.
Oil splashes and cooking residues can be wiped away after the day's cooking without the need for heavier cleaning to ensure a clean working environment.
To enable you to work without hindrance there are a variety of applications at your disposal. All it takes to get your dream kitchen – even with a set budget and time constraints – is a clear view of what you want and where to get it.
Subscribe to our Newsletter
Receive the latest recipes & kitchen tips !