Thirty years ago, children's party food consisted of ham sandwiches with the crusts cut off, mini sausage rolls, crisps and party ring biscuits – this was the accepted cuisine, the little ones loved it and, best of all, it was easy for mums to make!
However, nowadays our kids are a little pickier – they want to put on the best spread in their class, and for their party to be the talk of the school. They want a two-tier, custom-baked, rainbow hued Dora the Explorer cake, surrounded by expertly iced biscuits and sandwiches individually crafted to look like animals.
Unfortunately, not all of us have the time, energy or skills to make thing like this – but there are simple treats you can make that not only look great, but taste great too.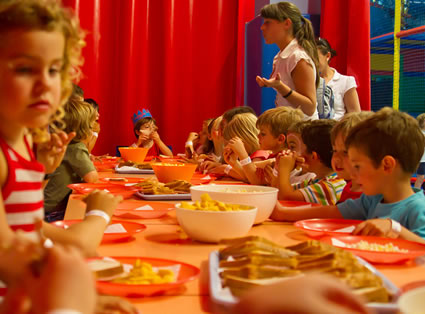 So, here are some easy, cheap food ideas to make sure your child has the coolest party in their class.
Lollipop Hedgehog
Approx 30 lollipops
Grapefruit
3 brown Smarties
Icing sugar
Cut around 1/8 of the grapefruit off to provide a flat base – the grapefruit will be your hedgehog's 'body'. Secure the Smarties onto the grapefruit at one end with a tiny amount of icing sugar, mixed up with water to form a thick paste, to make the hedgehog's eyes and nose. Then simply push the lollipops into the 'body' to resemble spines.
You can make a cheese-and-pineapple lizard the same way by using a cucumber as the body with cheese and pineapple on cocktail stick spines and some artfully arranged salad for legs.
Fizzy Jelly Sailboats
3 Large Oranges
3 Packets of Jelly (looks great if they're different flavours)
Lemonade/Soda Water
Cocktail sticks
Paper for sails
Cut your oranges in half, and scoop out the flesh and most of the pith with a sharp knife or spoon, making sure you don't pierce the skin. Make up your jelly packets by melting with hot water as directed on the packet, but replace the cold water with lemonade or soda water, using only half the amount advised so the jelly retains its shape when set.
Balance your orange halves in a muffin tray, and pour the jelly mix into the skins. Pop in the fridge to set for at least 2 hours. When set, cut each orange half in half again to make the boat's hull. Cut up paper into triangular sails, and when you're ready to serve, spear the top and bottom of the paper with a cocktail stick, and place in the jelly hull!
Chocolate Sparklers
Pack of plain mini breadsticks
Bar of Milk/White Chocolate
Hundreds and Thousands
Break the chocolate into squares, put into a heatproof bowl and melt in the microwave with short bursts (you don't want to burn it!). Tip the pot of hundreds and thousands onto a plate. Dip the ends of the breadsticks into the molten chocolate, roll in the hundreds and thousands, and prop up in a cup to set.
Do you have any treats that are a hit at every kid's party? Let me know!
Estelle Page is a mum of two who loves to spoil her little ones, but likes food to be simple to make! Currently she writes for Kids Island.
Subscribe to our Newsletter
Receive the latest recipes & kitchen tips !