In 2010, the Bureau of Labor Statistics found that American spending on food went down by about 2% on average, but Americans still spent a lot of money on food – about $6,000 per year per the 2.5 person family! A recent infographic by NPR shows that this type of spending comes out to about 15% of the average American's monthly income.
So if you want to cut back on that 15%, what are some things that you can do to stretch your food budget? Here are some great tips to help you stretch that budget as far as possible: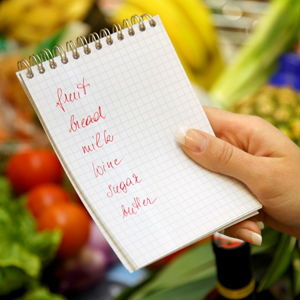 Have a Plan
The single most important thing you can do to stretch your food budget is to have a plan. Meal planning can take time, especially when you're just learning to do it, but it can also save you from spending a fortune on eating out or last-minute grocery runs because you don't have any food in the house.
Most families work with a weekly or bi-weekly meal plan, with shopping trips planned around each week's needs. The great part about making your own meal plan is that you can flex it to fit your particular style. If your plans tend to change at the last minute, just have a plan for three to five easy cook-at-home meals each week, and use them as needed. If you're steadier and normally have dinners at home as a family, plan for five to six dinners a week, leaving one to two days open for eating out or munching on leftovers.
When you're creating a meal plan, be sure that you also account for breakfast, lunch, and snacks. It's easy to just plan for dinner but then to get stuck eating out during your lunch break because there's no food in the fridge to pack for lunch. Whether you plan to eat last night's leftovers for lunch each day or to simply have sandwiches and cereal every day, be sure you have a plan for how you're going to eat.
Use Credit Wisely
One of the best ways to ramp up your food spending is to use credit without having a plan to pay down your credit cards. In an emergency, you may not have much choice. But on a regular basis, you should only use grocery credit cards to pay for groceries if you know you'll be able to pay off your grocery spending at the end of the month.
With that said, some of the best credit card deals for grocery spending, in particular, can really give a boost to your grocery budget. If you're careful about avoiding interest charges and late fees while hoarding up the rewards on your card, you can often get one or two weeks worth of free groceries a year just by using your credit card points.
If you don't think you can use credit responsibly right now for whatever reason, consider just shopping with cash. Cash-based budgeting can be helpful if you're new to living on a budget, since it gives you a more tangible, visual way to see when your money is going, going, and gone.
Cook More from Scratch
Any cook or home manager knows that cooking from scratch is much, much more affordable than buying pre-made anything. Even prepping your own salad vegetables rather than buying them bagged can make a big difference in your grocery budget. If you already enjoy cooking and baking, learn how to cook more from scratch in ways like these:
Bake your own breads and other baked goods. Even crackers are super easy to make on your own at home. Making all or most of your baked goods from scratch is also much healthier, since you skip the preservatives and additives that are often found in commercially baked goods. If you don't have time to bake each week, set aside one day a month to make several loaves of bread, English muffins, breakfast muffins, crackers, and whatever else you need, and then freeze the extras to use throughout the month.
Make your own cold cuts. It's actually pretty easy to make your own cold cuts by roasting your own chicken, beef, and pork, and it's much cheaper than buying the deli-sliced cold cuts or even the off-brand boxed cold cuts. As a bonus, you can use the leftover bones and other parts to make your own broth for soups.
Use dried beans. Cooking with beans, in general, is a fantastic way to trim loads of money off of your grocery spending, but using dried beans is even cheaper. Buy beans in bulk, soak them overnight before using, and you're good to go. You can even soak, cook, and freeze dried beans in can-sized portions so they're ready to go at prep time.
Make your own condiments, flavorings, and spice mixes. DIY condiments and flavorings can be surprisingly simple to make, and they're much cheaper. You can actually make ketchup, mayonnaise, mustard, and even vanilla extract at home for a fraction of the cost. Also, buying individual spices (in bulk if you use them a lot) and creating your own spice and herb blends rather than buying them pre-blended is much more affordable.
Learn to cook things you never thought you could make on your own. You'd be surprised at how simple it is to make lots of often-used foods at home. You can make your own pasta, for instance, from flour, water, and eggs. You can actually make your own yogurt in a crock pot (no need for a fancy yogurt machine), make pitas and bagels at home, or even make your favorite candies at home.
Cooking from scratch just by putting together your own pasta sauce rather than buying it canned makes a difference in your grocery budget, but the more you learn to cook from scratch, the more money you can save on your groceries.
Stock the Freezer
One thing that trips up many a grocery budget is the emergency night out. You had to work late, or your child's baseball game went into extra innings. The only meals on your meal plan take an hour or more to get on the table. Since it's already late, you just run through McDonald's to grab something quick to eat.
By properly stocking your freezer, though, you won't actually have to hit the drive-through on the way home. There are plenty of fast freezer recipes that you can make from scratch and have available for nights when you just don't have time to cook. For instance, you can keep homemade chicken fingers and fries in the freezer for a fast, convenient, healthy meal when you run out of time to cook that night.
Learn a Little at a Time
If you're currently spending several hundred dollars a month on food – whether on groceries or going out – don't try to cut your grocery budget by half overnight. While most individuals and families can eventually halve their food budgets, it takes time and practice.
Start by limiting the meals you have outside of your home and by cooking more at home, even if that means using convenience foods more often than not. Then, start learning how to plan meals for each day and cook more from scratch. Chances are likely that you'll get addicted to cooking from scratch, and you'll end up naturally cutting hundreds of dollars from your food spending as you have even more fun in the kitchen!
Daniela Baker is a social media advocate at CreditDonkey, a credit card comparison website fit for anyone looking to stretch their food budget. Visit http://www.creditdonkey.com/credit-card-deals.html to find the latest family-friendly credit card deals.