Eating well doesn't have to taste bad. We've all tried those "healthy" dishes that taste more like wet cardboard than a real meal but it doesn't have to be like that! If you are watching your weight or your health, these particular casserole recipes make delicious and healthful dinners for the whole family.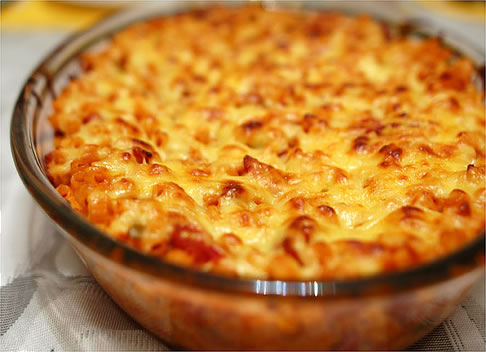 Classic Eggplant Parmesan
Find your favorite recipe for this classic dish and then substitute regular mozzarella for a low fat or part-skim variety to bring down the calorie count. You can also use just the whites of eggs to reap the baking and eating benefits without the high cholesterol.
It is easy to over-salt a casserole, especially when using dried and prepared spices. To avoid this pitfall, don't add any salt to the recipe and use no-salt-added canned tomatoes. Who knew this traditional Italian dish could be so healthy?
Squash and Bacon Casserole
This healthy casserole combines delicious smoked bacon bits with the smooth taste of winter squash and mini penne pasta.
butternut squash, 3 cups baked
bacon slices, cooked
shallots, 1 cup sliced and sautéed
mini penne, six cups cooked
roux: milk, 2 cups; flour, 1/4 cup;
sharp provolone cheese, 3 ounces shredded
salt
rosemary
black pepper
Add cheese to roux, then pasta. Spoon mixture into casserole dish. Combine cooked squash, bacon and shallots and spread on top. Bake for a quick 10 minutes at 450 degrees.
Veggie Delight Lasagna
Skipping meat for your dinner casserole is a quick and simple way to make it a healthier dish. Plus, it is easy to throw together with frozen or prepared veggies you can pick up from the store. Use low fat milk and cheese to keep this dish low on calories. This delicious vegetable combo includes:
zucchini
carrots
broccoli
garlic,
onions
yellow squash
If you are in a hurry, you can even buy precooked noodles and have your warm dish ready in no time. Chop up the veggies, throw them in a dish with the noodles and bake for half an hour.
This garden casserole also freezes well and makes great leftovers. Make sure to let the dish completely cool before putting it in the refrigerator or freezer or the consistency will be off.
Squash and Rice
Summer and winter squash alike make healthy cooking and baking a breeze. Substitute the cheese in this recipe for low fat option when available for a warm and nourishing dish. A great side, consider serving this tasty casserole alongside a meat entrée such as pork chops or chicken breast.
zucchini, eight cups sliced
onion, one chopped
fat-free chicken or vegetable broth
rice, two cups cooked
reduced-fat cheddar cheese, shredded
sour cream
black pepper
two eggs, beaten
Simmer the zucchini and onion in chicken broth for 20 minutes. Mash and add other ingredients. Bake for half an hour at 350 degrees in a greased pan.
Hot Tamale Casserole
For a southern flare, try this easy to make tamale casserole.
cheddar cheese blend, 4 ounces shredded
milk, 1/3 cup
egg
ground cumin
ground red pepper
canned corn, 14 ounces cream-style
corn muffin mix, 8.5 ounces
canned green chilies, 4 ounces drained
red enchilada sauce, 10 ounces
cooked chicken breast, two cups shredded
sour cream, 1/2 cup
Combine all ingredients in a bowl, stir until well mixed and then pour into a greased casserole dish. Bake for fifteen minutes at 400 degrees.
A casserole has that wonderful warm, comfort food feeling going for it but with healthy ingredients it can be a guilt-free indulgence. Watch your weight and cholesterol while still enjoying your meals with tasty and low calorie casseroles.
Drew C. is a writer for a website with a FREE BMI calculator. You can also subscribe to the FREE BMI Tips Newsletter. When he isn't working, Drew loves to play soccer, read and spend time with his family.
Subscribe to our Newsletter
Receive the latest recipes & kitchen tips !