Tandoori marinated lamb served with dal kandhari sauce
and sautéed apples, lasagna of salmon and caviar pasta served with tomato stew
and creamy herb sauce, grilled prawns with basil sauce and mangoes, tossed mix
salad of garden greens, asparagus and crispy pancetta served with mango
salsa, baked spicy pineapple rasam or chocolate, jalebi layered with
lemon croquet served with blueberries; and Rasmalia Terrine…
The names and recipes are endless and sound a bit odd too.
Not really as they come under the category of fusion food. Something stunning
has happened to food in India. Golgappas filled with vodka and prawns,
spicy crab cake washed down with a chilled energy drink, chopped green chilies
in vanilla ice-cream.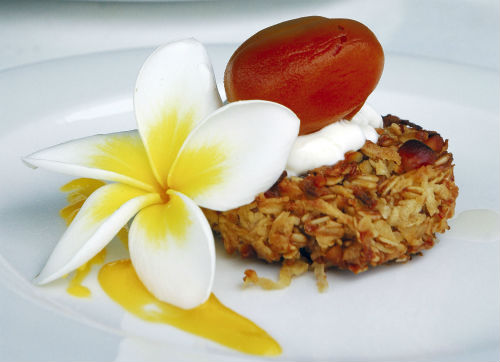 Trendy and chatpatta: It is a style of
cooking which is becoming increasingly popular the world over. "Fusion" is a
term that simply implies the fusion of several cuisines in one dish. Fusion
food in the 21st century could also mean casual, trendy and chatpatta stuff.
Allowing ingredients from all over the globe to be marinated, cooked and served
together in harmony on the same plate. The secret behind it is the successful combination
of the familiar with lesser-known ingredients. Pureed green chillies and coriander
can be stirred into a simple chicken stew at the last moment. Lemon grass or lemon
myrtle can replace lemon zest in a seafood risotto. Coconut milk can be used to
make baked custard, replacing some of the cream, altering the taste and texture
delightfully.
Fusion involves creativity and imagination. Italian, Spanish
and French cuisines would not be what they are today if explorers had not liked
the strange foodstuffs they brought back from their voyages of discovery. Thai-Lebanese,
Indo-French- Indian chefs allow their imagination to run riot as fusion
cuisine catches on in the metros. The simple reason is that dinner's tastes and
expectations are changing rapidly.
Changing eating habits: Experts are of the
opinion that this change in eating habits is due to several reasons with the
media and frequent globe-trotting consumers being the major ones. The
electronic media has exposed the consumer to an array of foods, and this is the
reason why we as a society opened out to fusion food. We are accepting the global
taste more now, to keep up with times, irrespective of whether we like it or
not.
The customer today is well travelled and informed and now wants
to taste the marriage of Western and Indian flavours, as he or she has eaten
the usual specialties to death. Also, with the increase in stress in jobs and
even in relations, food tends to become one's ultimate getaway. So people don't
want to compromise on that front at all and the more innovative it is, the
better it is. At present it is the fusion flavour that is selling like hot cakes.
People have made healthy living a lifestyle. Exposure to foreign lands and
their cuisine is also a big reason for this turnaround. Lastly, it is the
education entering the kitchen which has changed everything. Chefs have become
innovative, they know what the customer wants and they are delivering just
that.
For many years, fast food chains have made burgers, fries
and shakes as menu staples of these establishments everywhere in the world and
people across regions have learned to like these types of food, however
different they may be to their native dishes.
They also avoid encroaching on other people's cooking techniques.
But now, gone are the days where restaurants just stick to what they usually
serve as more and more people are looking for variety as well as that new yet
familiar taste that they have grown accustomed to with their local food. There are
an increasing number of chefs who are venturing into blending various cuisines
and culinary cultures.
This cooking technique is popularly referred to as fusion cuisine.
People are also looking for fusion food to keep the balance between the taste
of their tongue and health.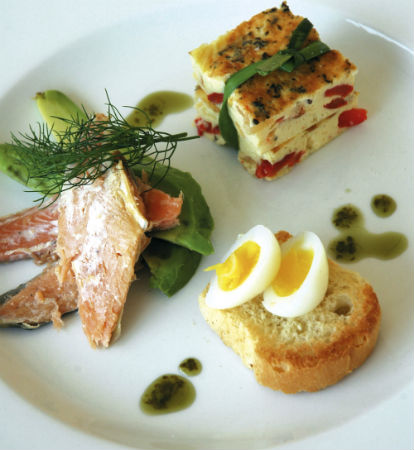 Healthy option: Italian and French food is
heavy and today's generation is health conscious. Fusion cuisine offers the
ideal option – blended flavours and light food. In this age of fusion food,
people experiment with a wide range of dishes and eventually create a contemporary
recipe, which suits both types of cuisine. A perfect example of fusion is
between tradition and modernity. Now, food is associated with lifestyle instead
of just cooking. "With the changing taste of people, there is a demand for more
exotic recipes.
Basically, fusion creates an opportunity, to give a regional
touch to traditional cuisines, in creating interesting recipes. Fusion cuisine blends
the culinary traditions of two or more nations to create innovative and
sometimes quite interesting dishes. It tends to be more common in culturally diverse
and metropolitan areas, where there is a wider audience for such food. It gives
the taste as well as being good for fitness.
However, some people have different opinions when it comes
to fusion food. Fusion recipes have evolved in different ways. First, an
original dish is combined with several ingredients from different cuisines and
regions.
Secondly, there is also a possibility of combining regional
and sub-regional cuisines to create a new recipe. This can be especially done
in the case of Asian cuisine. Lastly, mixing the ingredients and flavours of
one cuisine and basing it on food forms of another – like a sweet and sour sauce
recipe or American chopsuey.
Herbal tea could be the one of the good part of fusion food.
Proper blending of food can actually help an individual to follow a balance and
healthy diet plan and continue with good taste. With time, every art evolves
and changes. Those who understand this appreciate culinary innovation and
become a part of it.
Tastes good: There is definitely a huge demand
for fusion food. 40 per cent of the people still like a completely
international taste but 60 per cent prefer the cuisine to be international but
prefer that they should be made according to Indian palette and taste. Good fusion
cuisine combines ingredients and cooking techniques from several cultures in a
way which pulls together well, creating a seamless and fresh dish.
Fusion food definitely tastes well and suits our Indian
tastes. We have different ways in which we follow fusion food – International
dishes in Indian spices, Indian food in international sauces. It's basically a
style of cooking that uses ingredients and techniques from around the world,
especially one that combines Eastern and Western influences.
We certainly have a demand for fusion cooking and in fact it
is increasing. We get lots of visitors who have stayed outside for several
years of life; they prefer international dishes. There's nothing like tucking
into a piping hot bowl of soup, spicy pakoras and masala pasta.
Speaking of soup, have you had one with a hint of dal like in dal
manchow or a chicken pakora with fenugreek seeds like in the
delectable Methi chicken pakoras. It's a kind of fusion which gives
the best of both cuisines and complements and enhances the taste of the dishes.
The fusion trend is emerging and is here to stay and grow for sure.
The Indian palate is now ready to experiment with food like
never before. While chinjabi (combination of Chinese and Punjabi) was
not a planned effort to create fusion food, chefs are now working in a planned way on creating a menu that marries Western and Indian flavours to perfection.
Subscribe to our Newsletter
Receive the latest recipes & kitchen tips !