What most do not know is that a tomato is not a vegetable but a fruit. For many years it was grown as an ornamental plant and was called a love apple. Oddly enough, tomatoes were considered poisonous in the countries they originated.
They are natives to South America, domesticated in Mexico and brought to Europe in 1523. Tomatoes came to India with the British in the late 18th century and were cultivated primarily for the European community which was settled in India. Then Indians gradually adopted this vegetable and today it has become an integral part of almost every Indian dish.
Food value – water 94.3 per cent, fat 8 per cent carbohydrates 3.9 per cent, minerals 0.9 per cent, vitamin A 100 IU/100 mg vitamin C 39 mg/100 mg. It also contains important minerals like calcium, phosphorus, sulphur, magnesium, chlorine, sodium, iron and iodine.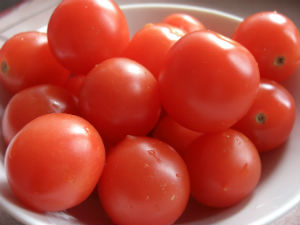 It also contains citrus, phosphorus and malic acids which purify the blood. Tomatoes contain more vitamin A than butter weighing an equal quantity. Raw tomatoes contain less vitamin C than ripe tomatoes.
How to buy them:
They should be bright and red, juicy, meaty, plump, heavy, glossy, well-formed and unblemished. Stem ends should be free from cracks. Soft, mushy, cracked skin and worm-eaten indicate rotten tomatoes.
How to store them:
They should be washed and dried thoroughly and then they should be either placed in closed containers or perforated plastic bags. Place the bags in the refrigerator – this helps to minimize wilting and drying.
How to prepare them for cooking:
It is always best to blanch tomatoes before using them in any dish. The easiest way to blanch and peel them is to place them on a colander, place this colander in boiling water or boil for two minutes until the skin wrinkles. Then immediately plunge them into cold water, drain and peel carefully and use in any dish. Alternatively you can grate them and use them in vegetables, you can aid freeze the tomatoes when they are cheap, grate them and freeze them in the freezer tray, pack them in polythene bags and use them as required.
Some Recipes Using Tomatoes
Tomato curry:
500 gm tomatoes, 250 gm shelled green peas. 100 gm each of cubed brinjal, capsicum and ladies' fingers 2 tbsp gramflour. 1 tsp ginger strips, 4 green chillies, 1 tbsp coriander leaves, (chopped) 1/2 tsp each of mustard and cumin seeds, a pinch of hing, 1/4 tsp turmeric powder, 1 tbsp dhania-jeera powder, salt to taste.
Boil the tomatoes in water till soft. Remove peels, put in the mixer and blend till smooth. Heat a tsp oil and put it in the vegetables. Cover with tomatoes and cook over a low flame till the vegetables are almost done. Heat 2 tbsp of oil and fry the gram flour to a light golden colour. Mix in 1 glass of water along with salt and all the ground spices,green chillies and coriander. Pour in the tomato mixture. Cook till the curry turns a little thick. Transfer into a serving dish. Heat 2 tbsp of oil and add hing, mustard and cumin seeds. When the seeds stop tossing, pour over the curry. Serve with plain boiled rice.
Cold tomato soup or gazpachio:
500 gm tomatoes, 100 gm cucumber, 1 green capsicum, 2 flakes of garlic, 4 brown bread slices of 1 onion, 1 tbsp sugar, 2 tbsp tomato ketchup, 2 tbsp chopped parsley, 1/2 cup each of chopped cucumber and tomatoes, 3 slices of brown bread cut into croutons and fried in oil till crisp and golden, 1 tbsp vinegar.
Soak the brown bread in water for a few minutes and squeeze out the water mix with tomatoes, cucumber, capsicum, onion and garlic. Add 1 glass cold water and blend in a mixer till smooth. Transfer into a bowl and mix in vinegar, sugar and ketchup salt and pepper. Chill in the fridge and serve in individual bowls garnished with bread croutons, cubed cucumber and tomatoes and parsley.
Tomato soup:
500 gm tomatoes, 1 tbsp butter, 1 tbsp cornflour, 1 cup milk, 2 eggs, beaten, 1 cup cream, 1 tbsp sugar, 1 tsp mustard powder, 1 tbsp chopped parsely, salt and pepper to taste.
Boil tomatoes in 1 glass of water, put in a mixer bled till smooth. Strain the soup. Heat butter add flour. Mix well. Put in milk slowly stirring all the time. Put in the tomato mixture. Mix well. Add salt and spices. Now pour in egg slowly stirring all the time. Transfer into serving bowls and add 2 tbsp cream to into each bowl Garnish with chopped parsley.
Tomato dip:
500 gm tomatoes pureed, 2 tbsp butter, 1 tbsp cornflour, 2 tsp mustard powder, ½ cup milk 100 gm grated cheese, salt and pepper to taste, 1 tbsp chopped coriander leaves.
Heat 2 tbsp butter and fry tomatoes till thick. Mix cornflour with milk and add to the tomatoes stirring all the time. Add cheese, spices and salt, cook to a sauce-like consistency. Garnish with coriander leaves. You can serve this with nachos, finger chips, wafers etc.
Tomato ice-cream:
1/2 cup pureed tomatoes, 1/2 cup condensed milk, 1 cup cream, a few drops of almond essence, 50 gm sliced nuts of your choice, sugar to taste, 1 tsp cardamom seeds.
Mix all the ingredients with the exception of nuts in a mixer. Mix in nuts. A freeze and serve topped with fresh cream.
Medicinal Value
Acidosis: Tomatoes increase the alkalinity of the blood and decrease that of the urine and neutralise the acid in the body. Therefore tomatoes are very good in the treatment of acidosis.
Constipation: Tomatoes are high in water-content. Therefore they are a good laxative.
Diabetes: Tomatoes are very low in carbohydrates. Therefore they are excellent for controlling diabetes.
Eye disorders: Since they are rich sources of vitamins A, B and C they are very good in curing all types of disorders of the eyes.
Obesity: Tomato juice taken first thing in the morning, helps in controlling weight.
Kidney and liver disorders: They are excellent antidotes to kidney and liver disorders.
Intestinal disorders: A glass of tomato juice with a pinch of salt taken after rising from bed proves very effective for curing morning sickness, jaundice, indigestion, gastric troubles and burning in the chest.
Tuberculosis: Fresh tomato juice mixed with honey and a pinch of cardamom powder if taken after swallowing 3 garlic flakes every night before sleeping, proves very effective for curing not only tuberculosis but also other diseases of the lungs.
Asthma: Tomato juice reduces congestion, checks the secretion of mucus and reduces spasms.
Anaemia: As the iron contained in the tomatoes is easily digestible it is easily absorbed in the body, hence it is very useful for treating anaemia.
Beauty value: Enlarged pores-To 1 tbsp tomato juice add a few drops of lime juice and milk. Apply to the face and for 20 minutes leave it on then wash off.
Sunburns – To 4 tbsp of buttermilk add two tbsp pureed tomatoes. Mix well and apply to the sunburns daily, and leave it on for half an hour, then wash off.
Dark complexion: Mix equal quantity of cucumber and tomato paste with honey and milk apply to the skin and leave it on for half an hour. Then wash off.
Open pores – Mix tomato paste with multani mitti and apply to the face. Remove after 15 minutes with plain water.
Oily skin: Tomato juice is the best astringent to control oily skin.
Blackheads: The best treatment for removing blackheads is to rub the areas daily with a tomato slice for 5 minutes.
Dandruff: To clear dandruff massage tomato pulp mixed with equal quantity of the pulp of lime. Wash it off after one hour.