The links between chocolate and feelings of love and desire go back as far as the Aztecs and it has been claimed that Casanova himself used chocolate to enhance his prowess in the boudoir, although there is no evidence to suggest that he actually gave any to his lady friends. Foolish on his part, really, as there have been several recent studies which show that chocolate, although it may not be an actual aphrodisiac itself, contains a cocktail of feel good chemicals which help enhance feelings of desire and fulfilment. Little wonder then that chocolate desserts are the perfect way to end a special Valentine's Day meal.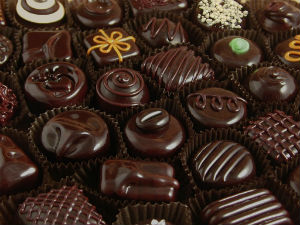 The delicate chemical complexity of chocolate does indeed have some fascinating effects on the human brain. Recent studies have shown that it contains Tryptophan which is a serotonin enhancing chemical which results in increased sexual arousal and phenylethylamine, a relative of amphetamine and a chemical which is released in the brain when we fall in love. No wonder the Aztec King Monteczuma was said to drink up to 50 cups of it a day, according to legend he had 600 wives to keep happy.
Luckily in modern times it's a little bit easier to use chocolate to help enhance those feelings of love and well being, especially on Valentine's Day when we tend to make time to chill out and relax with the person we care about most. There are all sorts of delicious chocolate recipes available, from the simple to the divinely complicated, so no matter what your levels are of culinary skill you should be able to whip up a tempting little something to serve at the end of your meal.
Some of the most popular chocolate dessert choices for a Valentine's Day meal include old favourites such as Chocolate Mousse or Chocolate Brownies cut into little hearts and served with strawberries and a dollop of fresh cream. Heart shapes can be incorporated into all manner of chocolate delicacies, be they biscuits, truffles or even imprinted into the top of a chocolate cake. Why not make a chocolate Valentine's note by baking some chocolate cupcakes and using writing icing to inscribe romantic messages over the chocolate frosting on top? Or for extra aphrodisiac powers you could bake a delicious Chocolate and Beetroot Cake. Sounds weird, but tastes delicious and of course beetroot has been considered to have aphrodisiac properties since the times of the Romans.
The only limit to chocolate Valentines desserts is your imagination. If you can bake it, shape it, or frost it then you are sure to create something that will go down a treat. Serve with a cup of freshly brewed coffee and you really can't go wrong. For maximum snuggle time then you can`t beat using one of the latest bean to cup coffee machines. It will make the freshest cup of coffee to accompany your dessert while you can be busy getting fresh with your Valentine`s date.