Many of us of the senior generation will remember with a shudder those childhood days when we had to take our regular dose of cod liver oil. Thick and viscous, with a horrible raw fishy taste, we had to be literally chased around the house, as we ran away trying to avoid it. We would be caught and a spoonful of the gooey stuff would be forced down our reluctant throats, as we gagged and tried to spit it out.
When we asked our father why he tortured us in this fashion, he would launch into a long explanation of the many benefits of this fish oil. At that time, we never believed a word and thought that it was only a punishment for some of our misdeeds around the house. But medical science is now proving that cod liver oil is indeed a wonderful boon for our bodies and helps us in many ways. Of course, nowadays it also comes packaged in a simple little gel capsule, making it easier even for vegetarians to pop one into their mouths. Smooth, soft and shiny, this little golden pearl is packed with nutrients.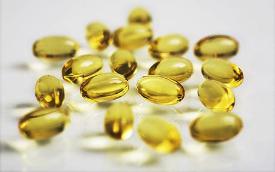 Origin of Cod Liver Oil: Cod liver oil was first established as a good food in the fishing communities of Greenland, Iceland and Norway, several centuries ago, when it was discovered that it provided protection against the harsh cold of those areas. Of course, around the world, people living in coastal areas, and whose diets included large doses of fish and fish oil, also seemed to enjoy certain health benefits not available to landlocked residents.
For more than 300 years now, cod liver oil has been taken as an effective health supplement. It is a good source of vitamins A and D, which help in getting good skin and strong bones. It is also a rich source of omega-3 polyunsaturated fatty acids EPA, and DHA (docosahexaenoic acid). One teaspoonful of cod liver oil contains 4,000-5,000 IU (international units) of vitamin A, 400- 500 IU of vitamin D, 500 mg of EPA, 500 mg of DHA and 50 mg of linolenic acid.
Benefits of Cod Liver Oil: Cod liver oil abounds in these healthy nutrients:
Vitamin A: This vitamin is essential for growth and bone development, and also for eyesight, and ovarian and testicular functions. While excessive vitamin A can be toxic and harmful, leading to birth defects, liver abnormalities and reduced bone mineral density, these have been traced to synthetic vitamin A and not to the natural forms of retinol (vitamin A) found in cod liver oil.
Vitamin D: This vitamin helps the absorption of calcium and phosphorus which are necessary for bone and teeth formation. They also help absorption of magnesium which helps to lower blood pressure. Vitamin D has also proved helpful in maintaining a stable nervous system and normal heart action, while also improving bone density in pregnant and menopausal women.
Omega-3 fatty acids: These essential acids have a wide range of benefits ranging from fighting heart disease, cancer, depression, diabetes, ulcers and Alzheimer's disease, to name a few. They provide resistance to common ailments like the flu and common cold, while also raising our energy levels and helping in greater levels of concentration. By ensuring a smooth and efficient flow of signals to and from the brain, they keep the brain neurons and traffic pattern of the brain healthy. Omega-3 is also needed for producing prostaglandin, a hormone-like substance in the body which reduces inflammation and regulates dilation of blood vessels.
EPA and DHA: These omega-3 fatty acids help to reduce inflammation, especially those arising from Crohn's disease (which affects the small intestine). They help to protect against kidney and pulmonary diseases. Other than this, they help to keep blood triglycerides in check, thereby preventing atherosclerosis (hardening of arteries), and too-quick clotting of blood, thus reducing the risk of heart disease. These fatty acids are good for brain health too because they have been known to help in the development of the brain and vision in foetuses. Deficiency of this critical acid in pregnant women has been known to cause problems like ADHD (attention deficit hyper activity disorder), dyslexia, aggression and depression.
Subscribe to our Newsletter
Receive the latest recipes & kitchen tips !