Soup is the embodiment of reassurance, an awesome soul soothing food filled with nutritional ingredients and fantastic flavors. Homemade soup allows us complete mastery over what goes into each bowl. So, here, we dedicated an entire section to bring you this soulful food, to warm your body.
Cold soups, did you ask? We also have cold soups here to give that delicious chilled twist to your meal along with a hot summer lunch.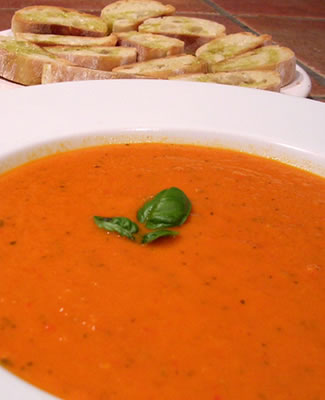 Soups are ideal as appetizers or starters, as a side dish, or as a one-pot meal.
Fresh ingredients make the tastiest of dishes. So, invest in fresh meats, vegetables, herbs, spices and flavors. Sometimes you could whip up a very tasty, refreshing soup with leftovers and in such cases, remember to make the dish worthy of its true nature and try to bring out the true flavor. It is possible even with leftovers.
Stock is the most important ingredient of any soup. This is the rich broth which forms the base for any soup and it is vital that this tastes perfect. It is the liquid from boiled vegetables, or meat, with a lot of seasonings, herbs, flavors and spices. Using stock as the base, home made soups are created which are rich in flavor and appetizing to taste.
This stock could also have certain sauces or juices with specific condiments.
So, let's stop the yakkety yak and jump on to the real section of this post, with an awesome listing of soups. Check this link for an entire list of Vegetarian and Non-Vegetarian soups.
The soup which has the most number of hits on our website is the tomato soup, which is so popular among children and adult alike. There are so many variations to this simple tomato soup and it caters to everyone's unique taste bud. A few are Tomato Shorba, Tamatar Nariyal ka Shorba, Tomato and Coriander Soup, Tomato and Carrot soup and Tamatar ka Shorba. Just add your favorite herbs, and garnish it the way you want, so that it tickles your taste buds. You could create innumerous different tomato soups just changing the seasoning and various spices and flavors you add to it.
Wondering how to get those green leafy vegetables into your body? Soups are the best way. Have you prepared soups out of those greens? If not, now is the time to try it. These awesome recipes make those leafy vegetables absolutely awesome to taste. Check out these green soups – Broccoli Soup, Cream of celery soup, Spicy Spinach soup, Green peas soup, Cabbage soup, Peas and lettuce soup, Lentil soup, peas and snow pea soup, Lentil and Spinach soup, Dahi Pudina soup, Spinach and potato soup, Broccoli badam soup, cream of asparagus soup and well, the list goes on and perhaps you should check this link.
Do you have a nagging cold and cough? You should try Ginger soup, Garlic soup, Gingery cauliflower soup, Pepper soup, Hot and sour pepper soup. It's hot, spicy and soothes the throat.
Cold soups are heaven on hot sultry days. Check out cold cucumber soup.
Have you tasted soups made from fruits? Check out Raw papaya soup, orange spinach soup, Watermelon soup, carrot orange soup and cold mango soup.
A few tasty vegetables soups like Baked bean soup, microwave sweet corn soup, potato soup, vegetable soup, spiced cauliflower soup, pumpkin soup, barley mushroom soup, drumstick soup, mix veg noodles soup, mixed vegetable soup, curried carrot soup and cream of vegetable soup have received raving reviews. You should check them out.
Did you know you could make soups from lentils and pulses too? Have you prepared Lentil soup, Moong soup with panneer, Lentil veg soup, Moong Soup, Dhal soup and Lentil and spinach soup? They are really yummy!
And do not forget to check out the entire soup section. Yes, we have devoted a separate page for soups. Soup makes a wonderful addition to any meal, and once you make a pot or two, you'll discover it isn't really that hard to make.
Awesome cuisine presents easy to follow, step-by-step procedure to prepare a soup that leaves you with no guesswork. We hope to bring out the chef in each home to hone out his skills to perfection.
So not forget to write to us with your queries, recipes and love.
Subscribe to our Newsletter
Receive the latest recipes & kitchen tips !