Come, let us celebrate Mother's day without any drama, expensive gifts, lavish parties and the works, but create sweet memories and cherish our times with our mothers, children and family. With all due respects to this one day as a holiday, I still think on all days, gratitude and love for one's mother is important, but the memory of this one day is precious too.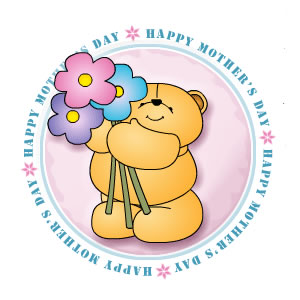 I am a mother and a daughter too. And I regard both relationships sacred. What would I do with my mother if we were close by? I would cook for her, take up her responsibilities for the day, help her relax; take her out to the beach maybe or the spa. Or perhaps, I would prefer to enjoy the day in the cozy haven of my home. I would make her favorite dishes. Let me see, my mother likes both North Indian and South Indian dishes.
For all South Indian recipes from our Awesomecuisine site, click here. Adai, Dosa, Idli, Vada, Puri, Sevai and Upma are common South Indian breakfast.
But maybe your mother is the one who loves exotic dishes. In that case you could choose to make Continental breakfast. We have a wide variety to choose from – American, Italian, Chinese, Mexican, Thai, etc. Choose your pick.
Perhaps, instead of preparing breakfast and lunch separately and spending a lot of time, you would like to simplify the task, make brunch. In that case, make it simple and exotic. You could prepare Continental brunches too.
And finish it off with desserts. Chocolates, Cakes, our very own Indian Payasams, Kheers are all good choices. We have a wide variety of these here in our dessert section.
How many times would you have coaxed her to relent with one last scoop of that special ice-cream she home made during your summer holidays? I am sure your nostalgia would be so strong today. Go ahead; pamper her with the same ice-cream recipes she used when you were young. Check out our ice-cream recipe section and browse through them, find out her special recipe, and prepare her for the big surprise.
In today's blog episode I do not want to suggest specific desserts, because this is so special between you and your mother; so be sure to prepare your mother's favorite dessert. It is one day she is sure to cherish all her life through.
Late afternoon, take her for a spa. For discounts and offers you could contact us. If there are any current discounts running at the moment, our readers would be the first to benefit from our sponsors. Come on; drop us a mail and we will check for you if there are any offers valid at the moment.
Tangible gifts, did you say?
I would give her a long hand-written letter which can be felt, cherished and preserved. I would take pictures of us together. I would frame them and gift them to her too.
If she is far somewhere, send her a box of chocolates, or a huge home-baked chocolate cake and a huge bunch of white lilies. There is something special about gifting white flowers to mothers. It symbolizes the purity and love of the bond between a mother and her child.
Is it that time of the year when you know mother's day falls around her birthday, her anniversary or some other special day and you want the gift to mean something more? So, get her jewelry trinkets, exotic kanchivaram saris, watches and just about any of those things which you know she has been meaning to get for herself and never got around to buying.
Come on; there is no stopping you to show your love for your mother today on this special day or ever in the rest of the 364 other days.
Now, I as a mother would like nothing from my son as long we get to spend the rest of the day together. Yes, that simple gift is something every mother will cherish for ever – only time and company. So, be sure to give that to your mother today and ever.
Awesome Cuisine wishes all our readers a memorable Mother's Day filled with love, food, fun and peace 🙂
Subscribe to our Newsletter
Receive the latest recipes & kitchen tips !