Cakes are the most favorite dish for ceremonies like birthday parties, anniversaries and weddings. There are countless cake recipes; some are bread-like, some rich and elaborate, and many are centuries old. Cakes are no longer difficult to make. In fact it is the easiest recipe to whip up.
Cake is a form of bread or bread-like food. In its modern forms, it is typically a sweet and enriched baked dessert. In its oldest forms, cakes were normally fried breads or cheesecakes, and normally had a disk shape.
Modern cake, especially layer cakes, normally contain a combination of flour, sugar, eggs, and butter or oil, with some varieties also requiring liquid (typically milk or water) and leavening agents (such as yeast or baking powder). Flavorful ingredients like fruit purées, nuts, dried or candied fruit, or extracts are often added, and numerous substitutions for the primary ingredients are possible. Cakes are often filled with fruit preserves or dessert sauces (like pastry cream), iced with buttercream or other icings, and decorated with marzipan, piped borders or candied fruit.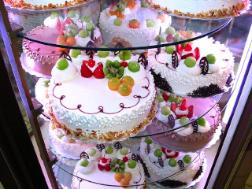 Let us have a look at some popular cake recipes at Awesome Cuisine. We have over 100 cake recipes for you. If you cannot find a particular cake recipe at our site, write to us, and we would feature you and your cake recipe with a surprise gift, because we take pride in featuring all cakes from around the world.
Fruit cakes are the most popular of cakes. Lime Pudding Cake is one of the easiest to make. It is also one of the oldest cakes. We have recipes for almost all fruit cakes. Orange cake, pineapple cakes, mango cheesecake, banana cheesecake, coconut cake and pumpkin spice cake.
There are also combination cake recipes like Pineapple Coconut cakes, orange blueberry muffin, orange lemon cake, fruit cup with almonds, cherry pineapple upside down cake, chocolate strawberry cake and well, oh the list goes on. You could also make your own combination cake and write to us about it.
Have you heard of carrot cakes? This is an absolute must if you are indulging.
Did you know, there are so many varieties of chocolate cake and so many ways to prepare it that you would feel like eating different cakes. Ah, but they are all the same sinful chocolate. If you need to know, you should bake them all separately. Try Angelfood chocolate cake, chocolate coffee cake for the coffee lovers, chocolate truffles, chocolate walnut cake, plain old chocolate cake and molten chocolate cakes, chocolate marbles to go with your hot cup of tea, Eggless rich chocolate cake for the vegan chocolate lovers.
We also have some exoticas for those taste buds which love different and unusual flavors. Try Black Forest Gateau, Cinnamon Streusel cake, Panneer Cake, Caramelized Apple tart, Rich chocolate Meringue Gateau and so on.
With Christmas coming up, we also have traditional Christmas cakes and some not so traditional but definitely equally rich festive Christmas cakes. Buttermilk Pound Cake, Christmas fruit cake, Merry Christmas balls, Christmas cake recipes.
We also have cakes for the strict vegans. Check out Eggless Fruit cake, Eggless Sponge Cake, Eggless Curd Cake, Eggless Cinnamon cake, Eggless date and walnut cake.
It does not stop here. You just have to check out the entire cake section. These 100 recipes cannot be done justice in a single food guide post. We need your cooperation in taking this a step further. Come, browse through these recipes, bake your cakes and write to us.
Cakes are definitely the best dessert, god's gift to every meal, and a sinful indulgence for every occasion.
We love cakes!
We love you to bake your cakes too!