In all cultures around the world, dessert is the last course at the end of a meal. The word comes from the French language as dessert and this from Old French desservir, "to clear the table" and "to serve." Usually desserts are eaten sweet.
Desserts are the most popular course of the meal not only for children, but also for adults. Desserts broadly fall under the categories Cakes, Cookies, Ice creams and puddings (kheer).
Cookies are the easiest to prepare dessert ands can be stored in a tin and has a very long shelf period. They are not just desserts, but also are those tiny nibble on snack which kids and all love; they are also used as accompaniments for tea and coffee. You don't even realize you are snacking on a cookie.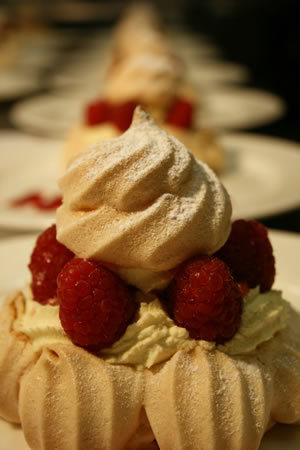 So, let us have a look at the various assorted cookies from our cookie section. This time, we are expecting you to write back to us with your favorite cookies which you sampled from our website. Or, of course your children's favorite cookies. So, what are the must taste cookies? Yes, definitely bake Eggless Butter cookies, chocolate cookies, cashew cookies, Peanut Cookies, Walnut cookies.
Did you know you can bake chocolate chip cookies at home and still get the same shop purchased aromatic crunch? Check out our simple recipe for chocolate chip cookies.
Valentine cookies is one of our most frequented cookies from the cookie section. Check it out on Valentine's Day and all through the year too.
Blueberry muffins are a very popular item in our cookie section.
The next dessert which we are going to feature this week is Kheer or also called as Payasam in Southern India. It is the basic pudding sweetened and cardamoms, saffron, pistachios and almonds. The most common Kheer varieties are Rice and Dal Payasam, Pal(Milk) Payasam, Moong Dal Kheer, Chenna Kheer, Panneer Kheer, Wheat Payasam, Badam Kheer and Vermicelli Kheer.
Dessert varieties among Kheer famous in Southern most India are Coconut milk Payasam, Nei (ghee) Payasam, Aval Payasam, Adai Pradhaman Kheer and Elaneer (Tender coconut) Kheer.
Did you know, these kheer varieties can be prepared from fruits too. Kheer prepared in this way, has a unique English pudding taste to it. Some kheer recipes from our site which are most frequented from all the world are Mango kheer, Carrot Kheer, Jackfruit kheer (famous Keralite recipe), Apple kheer, Cauliflower kheer, Pineapple kheer and banana kheer.
The goodness of dry fruits can never be missed from a dessert. Why don't you check out dry fruits Kheer. It is heavenly on the tongue.
Who can miss Ice creams from a dessert? Not I! Not you either! So, why don't we all browse through the ice creams section to satiate the hot desire for ice creams? Mango Ice cream, Pista ice cream, strawberry ice cream, vanilla ice cream, roasted almond ice cream are a few basic ice cream varieties from our website.
But if you want those exquisite delectable dollops, check out Bread ice cream, chocolate coffee and truffle ice cream, Kujja kulfi, cherry chocolate ice cream and my favorite, Ginger ice cream.
Ah, Cakes – the last and most delicious dessert we are going to feature! Cakes and pastries need no introduction. And with most homes having a microwave oven nowadays, they can be prepared with such ease and speed. Check out our cakes section for an entire listing. But don't miss out clicking on Lemon snow cake, fresh fruit meringue, pineapple cream cake, devil's food cake, fruit cake with almonds, and many many more. Don't you think we need to devote an entire special post to cakes? Let us know what you think.
Desserts are the limelight of any meal. Desserts are the most awaited course of any meal. Serve a heavy and delicious dessert and your man is yours. Perhaps, the way to man's stomach is through his dessert.