Rajasthan, the land of princes and warriors like Rana Pratap Singh, the arid Thar desert, colorful cotton cloths, beautiful architectures like the Hawa Mahal, the largest state of Republic India, the land which boasts of being part of the Indus Valley Civilization is a land of very spicy food – spicy, flavory and very aromatic food.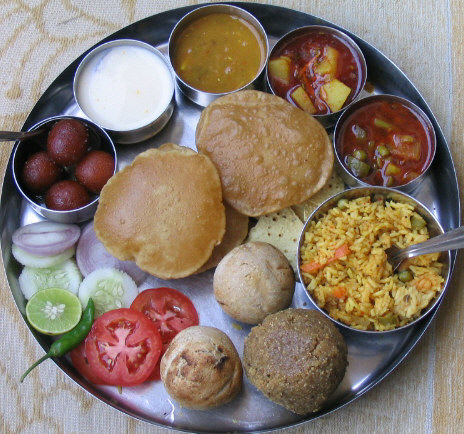 This land is characterized by scarcity of water, scarcity of fresh green vegetables and hence most of the dishes are prepared in such a way that they can be stored for a couple of days. Lentils, pulses and gram flour are used in abundance. Dry fruits, dried vegetables, spices, yoghurt and ghee are used much in common. Most foods are cooked in milk than in water.
Aloo Bharta is a very tasty side dish made of potatoes and spices. A variation of Aloo Bharta is Baingan Bharta made from brinjals and equally tasty.
Chana Dal Parantha is a favorite among children. There is a spicy version too in our website.
Churma is a ladoo made of wheat and ghee and sugar. Garnish it with almonds and cashews.
Aloo Mangodi is a unique exotic snack made of mangodi, potatoes and Bengal gram flour. This canmt be explained at all. It only has to be tasted. Check out the recipe.
Daal Batti which has a very long shelf life is hard unleavened bread, very suitable for the desert regions of Rajasthan. It required minimal quantity for its preparation. The Daal is prepared with Moong and Channa Dal. The Baati is the unleavened bread, sometimes stuffed with veggies and spices, sometimes just plain old bread. Check out the recipe to prepare Daal Baati here.
Kachori is a very delectable and spicy snack having originated in Central and
Western India
. It is so common in Rajasthan. Here at AwesomeCuisine you have an entire section dedicated to Kachoris prepared the Rajasthani way. Check it out here. Urad Kachori, Paneer Kachori, Moong Dal ki Kachori, Raj Kachori, Peas Kachori, Masala Kachori, Khasta Kachori, Hot Kachori, Sweet Kachori… Oh wow, my mouth is already watering. Let me tell you, Peas Kachori is my favorite. Let me know which kachori was your favorite. I just have to go on to the next dish, though I would like to stay with this mouth watering Kachoris.
There is this curry which can be used as a hot and spicy side dish. It is called Vegetable Rajasthani Curry. It is really awesome. I used this as a side dish for roti and my kid loved it for lunch break. Try something different like this for tomorrow's school lunch for your kid or for yourself to take to work place.Garlic Chutney has a long shelf life. This is the most famous and often prepared chutney ion Rajasthan. I never knew Garlic Chutney tasted this good until I came across the recipe here at AwesomeCuisine.
Missi Roti is popular in Rajasthan which is made of wheat and besan. It is highly nutritious. There is another version called as Rajasthani Missi Roti. Both are absolutely wonderful.
Kesari Bath which is basically saffron flavored rice made exquisitely aromatic is again a dish prepared with ingredients which don't perish soon. All the listed dishes here are basically those which are long lasting to suit this arid region.
Kadhi which is a yoghurt based dish is served with Kichdi. The variations and flavors with different vegetables of this simple, yet tasty dish listed here at your favorite site are Spinach Kadhi, Muli Kadhi, Garhwali Kadhi, Dapka Kadhi, Dal Kadhi, Bhindani Kadhi.
Oh, did you check Kadhi Pakora recipe and Gatte ki Kadi yet?
Rajasthani Bhindi, the absolute in spicy veggie dishes is a must prepare, must taste for those spicy tongues. Go ahead, click the link and let me know how you liked it.
Rabri is usually made with Bajre ki roti and eaten for lunch. But there are some variations to this and it is sweetened and flavored and had as a sweet too. Check out the variations – Apple Rabri, Mango Rabri, Potato Rabri, Rabri Malpua recipes.
Boondi is usually had as a snack during tea. It is chick pea flour deep fried in ghee or oil. It is dipped in sugar syrup later on to make sweet Boondi and Laddu. For spicy Boondi, spices and salt are mixed with the chickpea flour before frying.
Sweet dishes are never referred to as 'dessert' in Rajasthan, because unlike desserts which are had after the meal, Rajasthani sweets are had before the meal, with the meal, and after the meal!


Churma is a very common and easy prepare sweet. It has loads of ghee and sugar and high in calories. Check it out here. It can be served with Baati or served as it is.
Gujia is a sweet dumpling prepared with wheat and filled with dry fruits and coconuts. It is prepared during most of the festivals and especially is a must during Diwali.
Ghevar has a distinct shape. It is disc shaped, mush to the amusement of software professionals. It is made of flour, sugar syrup and milk.
Laapsi is a sweet dish made of broken wheat, ghee, milk, dry fruits and nuts. There is a Gujarathi variation of this also known as Fada Laapsi. Do not forget to check out both of them.
All these sweets of Rajasthan are mostly made of grains, ghee, dry fruits, nuts and milk. But each one has a unique preparation, a unique taste, and an exotic flavor and has to be tasted and savored desperately and individually. The sweets of Rajasthan are a separate blog post in itself. This whole post dedicated to the Rajasthan cuisine in entirety may not do justice to the sweets of Rajasthan.
Taste it to know it, is all I would say.
Rajasthani Cuisine in Video