Easter, the day of spring, hope and feasting, the day of Jesus Christ's resurrection, is definitely not bound by religion. Today Easter is celebrated with friends and family socially as a day of fun, games and feast. Being a holiday weekend calls for additional gala.
How do you plan to celebrate this year's Easter? After church in the morning, surrounded with family and friends surely you should have a wonderful and well spent day and we at awesome cuisine are always eager to give you tips.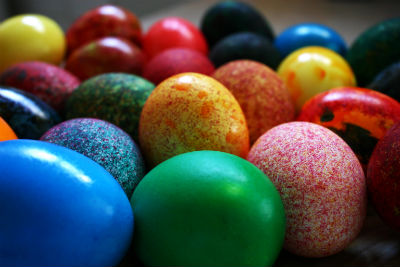 Home made Hot Cross Buns is an important Easter tradition. The right blend of sweet, salt, spicy and fruity taste differs from home to home. Generally they are had for breakfast. The superstition goes that they ward off evil spirits and the cross made on top of the bun signifies the cross Christ was crucified on. So, what are you waiting for? Bake your Hot Cross bun with our recipe found here. Feel free to add fruits like orange or bananas or apples along with the raisins to customize it to your palette.
Have you prepared and decorated your Easter Basket yet? No? Need ideas? You can prepare your Easter Basket using this step by step guide mentioned here. Decorate it with Bunny Cookies, Easter Cut-Outs, Green Coconut Nests, Easter Chocolates, Bunny Biscuits and just about anything else your heart desires. After all, it is your loving gift to the people whom you love and cherish. So, fill it with anything you love.
Party without food? Fun and games without snacks? Come on, NO kidding! We would never even think of such a blasphemous idea. What are you planning to have for Easter Lunch this year? Easter Chicken Roast, Easter egg Salad are Easter Ham just our lunch suggestions to start with. You could check all the Easter recipes available on our site here.
We will never disappoint the vegans and health freaks. We also have Easter Salad, Roasted Jacket Potato, Fruity Salad and Rabbit Cake. And oh, Rabbit cake is perfectly vegetarian 😉
In Europe there is a tradition to have a bonfire on the eve of Easter. Call up your closest buddies, organize an Easter Bonfire party and have fun. Prepare pitchers of Ginger Lemonade, the drink of Easter, and prepare and carry along Easter snacks like Bunny Cookies, Easter Egg Sandwiches, Easter Biscuits and Easter Chocolates, Bunny Biscuits. Don't forget the Hot Cross Buns left over from Good Friday.
You could play Easter songs in the background to set out the spiritual mood.
We also have ideas to keep your kids well entertained this Easter. The most common Easter Games are egg games. Egg decorating and Egg painting – this is so popular, kids like to get colors not only on the eggs, but on them too. Now hide the colored and decorated eggs at various strategic places and play treasure hunt. The egg hunter who hunts the maximum egg could get an Easter basket full of bunny cookies. There are also more egg games like Egg rolling, Egg tapping, Egg dance, Pace Egg play and even Egg eating competitions. You could also have cookie eating games.
Easter games are evolving from traditional games to more intellectual ones to suit today's times. Play scrabble with Easter words. I was once part of a game which played jumbled words with lots of Easter words like 'yunbn', 'sgllghee', 'okecoi', 'snlbeisgs', 'etln'. Go ahead, unscramble them send an E Mail to admin@awesomecuisine.com. The first five correct entries would receive a surprise from us.
We at awesome cuisine wish you a very happy Easter. Create a lot of pleasant memories; cherish your near and loved ones. Feel the Lord's and Life's benevolence today and ever. Amen!