The temperature in most parts of India is now over 30°C and who does not want to sip some iced drinks. But be careful about what you slurp on. Those so called "healthy" fruit smoothies and iced teas could have around 300 calories and filled with additives, preservatives and colors. So make your iced drinks at home and carry them in a pet bottle wherever you go.
Of course, there is nothing to beat good old, pure H2O. But don't we all want that zing in our life and flavor in our hydration. So, why not go the natural and healthy way to restore that much needed moisture to your body and keep it hydrated.
Below are a few thirst quenchers which can be drummed up in less than 3 minutes at home.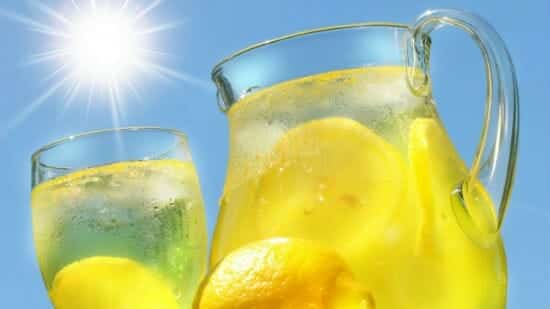 1. Good old fashioned lemonade
Lemon is the best hydrant since time immemorial. There is no better way to relieve that parched throat than to down it with gallons of lemonade. And its rich in Vitamin C. Even a child knows to make lemonade.
How to make: Squeeze lemons and dilute with water. Add sugar to taste or if you want a wiser sweetener, use honey. Avoid soda with lemon, it could become a practice and it contains loads of calories.
For more zing: Listen to your tongue and add mint or rose essence or vanilla essence or ginger juice.
Tip: Ginger flavored lemonade tastes best.
2. Watermelon Rose Punch
According to ayurveda, rose water has a cooling effect on the body, mind, and emotions. Watermelon is cooling and rich in potassium, as well as antioxidants like vitamin C and beta-carotene. And the name suggests that it is definitely a substitute to water.
How to make: Peel, remove the seeds and juice the water melon, then mix in 5 Tbsp. of rose water and 2 Tbsp. sugar (I always prefer honey).
For more zing: Juice a few strawberries with watermelon. Garnish with mint sprigs and rose petals. A dash of cinnamon and a few drops of lemons could also be squeezed for a tangy flavor.
Tip: It tastes best with strawberry juice and rose water.
3. Mango Blackberry Smoothie
The mango is considered the king of fruits. It is rich in bioflavonoid, antioxidants, potassium, fiber, and vitamin C.
How to make: Peel one full big sized mango and smooth it with ½ cup of blackberries. Add sugar and a pinch of salt to taste.
For more zing: You could add two spoons of cream to it or ½ cup of pasteurized milk while blending it. Even a cluster of green grapes will lend a mystic flavor to it.
Tip: Chill and serve with a dash of cream.
4. Citric Punch
High in Vitamin C and very tangy to taste, these are rich in fiber and available in plenty during summer.
How to make: Two oranges, half a lemon, a grape fruit, a tangerine, all peeled and then blended finely, finally adding some sugar and water to dilute it.
For more zing: Garnish it with a segment of orange, mint sprigs and lemon slices.
Tip: Add honey and mint syrup. Alternatively add a bag of green tea for that teay flavor.
The above are just a few thirst quenchers. Check out our section of elaborate beverages . Other than these fruit juices, milk products also make good hydrants. Lassis, chilled buttermilks, milkshakes, cold coffees, iced teas, exquisite mocktails all serve as very good thirst quenchers.
Generally, all seasonal fruits which are freshly available in markets can be juiced and flavored. Check out the recipe for fresh fruit juices in our site here. Use your imagination and make it as palatable as you please. Keep mint syrup, rose essence, vanilla essence, lemons, mint sprigs, honey, yoghurt, cream, milk, sugar, salt, cinnamon and ginger at hand. You can combine two or three fruits with a berry and add any or a combination of the above flavors to make it appealing to the senses. Serve chilled. Use a temperature controlled flask and carry it on the go.
Even if you are strapped for time and unable to make your day's thirst quencher, always carry a pet bottle of water and lemons in hand. You can make plain lemonades wherever you are.
During this year's hot season, take care of your health. Avoid very hot places, cover your head adequately, and avoid traveling in mid day. Eat fibrous food and drink lots of smoothies and juices. Keep yourself well hydrated.
I hope this summer you literally appreciate the ancient adage, "If life throws lemons at you, make lemonade".