In the olden times, cinnamon was 15 times more valuable than silver and was priced higher than even gold. Yes, you read it right. While that is not true anymore as most of us would love to get our hands on the shiny yellow metal than a stick of this flavourful warming spice, that doesn't take away from its abundant health benefits. While most of us in India enjoy a dash of cinnamon in our morning tea/coffee, there's serious reason to consume more of this marvellous spice on a daily basis. Here are 10 science-backed health benefits of cinnamon.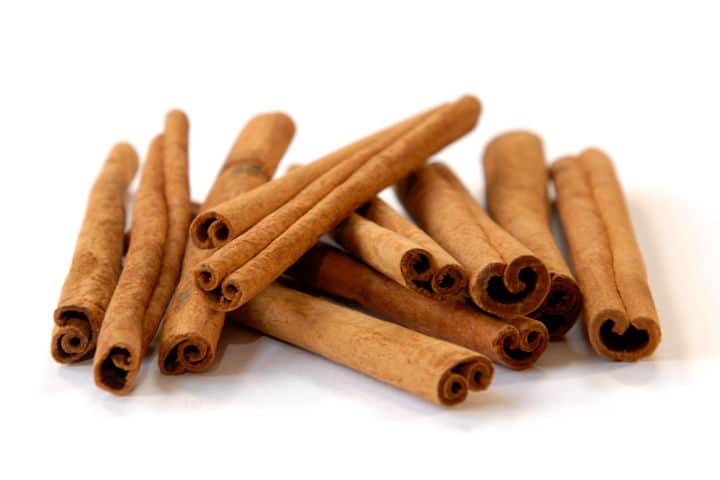 #1 Cinnamon helps manage Type 2 Diabetes: The effect on cinnamon on diabetes works in 2 ways – one by lowering blood pressure, thereby igniting a positive effect on blood markers for those with Type 2 diabetes, and secondly by reducing insulin resistance, which is known to lower fasting blood sugar levels by up to 29%, thereby bringing down the instance of Type 2 diabetes. Experts believe this miraculous spice works even better than some prescription medicines! Two popular methods of cinnamon consumption for diabetes are having cinnamon tea or using 1-2 drops of cinnamon bark oil in daily beverages.
#2 Cinnamon fights bad cholesterol (i.e. LDL) and raises good cholesterol (i.e. HDL) in the body: This medicinal wonder helps improve serum glucose, lower fasting blood glucose, and reduce triglycerides, LDL cholesterol, and total cholesterol levels. What's more – it also increases the level of HDL which further lowers LDL in the body. Those of you who love eating high-fat, fried foods must especially include cinnamon in your daily diet – it can reduce the detrimental effects of a high-fat diet by slowing the increase in blood sugar levels post a calorie laden meal.
#3 Cinnamon has significant anti-microbial properties: Known to fight fungal, bacterial, and viral elements, cinnamon was renowned for its food protection benefits in the pre-refrigeration era. Moving beyond food, the same properties help treat skin infections, lung congestion issues such as bronchitis, common cold, sore throat, etc. One of the most surprising benefits of cinnamon has emerged in the space of HIV treatment where research has shown that the spice can prevent the virus from entering body cells.
#4 Cinnamon works as a cancer preventer: By controlling blood sugar levels, cinnamon is believed to impair the growth and proliferation of tumours, gastric ulcers, and melanomas. The logic for this fact is based on the evidence that suggests Cinnamon is able to starve cancer cells of the sugar needed to sustain them, thereby hampering their activity.
#5 Cinnamon can help manage Alzheimer's and Parkinson's: While it is a proven fact that cinnamon boosts cognitive function and overall brain health, recent studies suggest that Cinnamaldehyde and Epicatechin, two of the key chemical compounds found in cinnamon, inhibit the aggregation of a protein named Tau – which plays a major role in determining the structure and function of neurons. Accumulation of Tau gives rise to 'neurofibrillary tangles' a typical characteristic of Alzheimer's disease. Both compounds found in cinnamon help to protect Tau from oxidative damage that can lead to this dysfunction.
#6 Cinnamon is a gastrointestinal miracle: Indigestion, bloating, flatulence, loss of appetite, common digestive problems – all have one solution and that is our wonder spice cinnamon. Renowned for its digestive, antimicrobial, and anti-inflammatory properties, Cinnamon has been used for several millennia in both Eastern and Western medicine. In Indian Ayurvedic and Unani medicine, cinnamon bark oil is cited as a single drug to treat flatulence, impaired digestion and metabolism, intestinal tract inflammation, ulcers, vomiting, haemorrhoids, erectile dysfunction, worm infestation, dryness of mouth, blood disorders, scorpion bite, and even toothache.
#7 Cinnamon helps treat Attention Deficit Hyperactive Disorder (ADHD): With ADHD instances on a steep rise across the globe, Cinnamon is increasingly emerging as a viable homeopathic treatment for the disorder. Cinnamon aromatherapy helps relieve common ADHD symptoms such as inattention, fidgeting, restlessness, inability to sit in one place for long, anxiety, forgetfulness, etc. Cinnamon's anti-oxidant and blood sugar controlling properties also come to the fore with regards to ADHD treatment.
#8 Cinnamon ups libido and performance: Looking for a way to spice up your love life? Cinnamon can help you there too – ancient texts mention the spice as an ingredient with magical powers to attract a partner and generate feelings of lust and desire. Known for its overpowering aroma, stress reducing and warming properties, and of course the all-consuming flavour in food – cinnamon is undoubtedly high on the list of aphrodisiac and relaxing substances. It is for this reason that cinnamon oil finds a place of pride in massage centres and spas around the world.
#9 Cinnamon as a beauty boon: If you desire a youthful, supple, firmer skin – get some cinnamon in your diet. Besides boosting collagen production, the spice also helps fight a plethora of skin conditions like acne, eczema, etc. to reveal a clear, glowing skin. It makes for a popular ingredient in face packs, scrubs, serums, and creams across the world.
#10 Cinnamon is a woman's best friend: Not just skin and beauty, Cinnamon helps combat symptoms of Premenstrual Syndrome (PMS) and Polycystic Ovarian Disease (PCOD) as well. These are two of the most common conditions plaguing women health across the globe. Studies have proven that cinnamon helps improve metabolic hormone profiles, ovulation regulation, and overall reproductive health and fertility in females.
Now that you know about these amazing benefits of cinnamon, you might agree with us that the spice actually does value more than gold – health is wealth after all. So what are you waiting for? It's time to don your cooking hat and prepare some yummy dishes and desserts with the wonder spice. It's easy to make flavourful aromatic meals at home with a dash of cinnamon and of course some pure unadulterated tender loving care. Happy home cooking!