Famed for its bright lights and glamorous nightlife, London also has a softer side where the smell of freshly baked bread and spices of the world waft through the air. Escape the costly tourist traps and stuffy London hotels, forget the soulless identikit restaurant chains and do London how the locals do it. Whether you're a culinary expert, an aspiring master chef, or simply want to watch the day-to-day of London-life, these markets act as a diverse and worthy stage.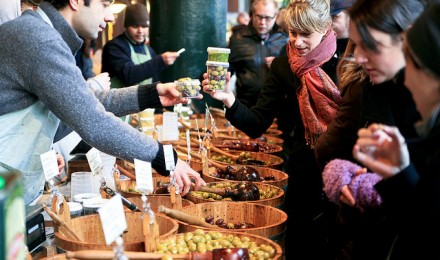 Borough Market – The Foodie's Holy Grail
No self confessed food-fanatic can legitimately call themselves a 'foodie' until they've experienced the taste-overload that is Borough market. The oldest and best known food market in London is set amongst the iconic railway arches of London Bridge station, and it really is all about the quality of produce. Meat-fiends will find more choice here than at any other London market and the selection of quality cheeses is simply immense. The prices seem to have caught up with its high profile status over the last couple of years and you won't get as much for your money as you would from other foodie hotspots. However, you could quite easily fill your stomach on free samples, so it really isn't all bad.
No matter which stall you decide to eat at, make sure you leave a little room for coffee and cake from Monmouth coffee – one of the few places in London that really know what they're doing with their daily grind. Borough Market runs from Thursday to Saturday, although they are also open 10am – 3pm for lunch Monday to Wednesday. Whenever you go, you'll want to get there early to avoid the frantic lunch rush.
Address – Borough Market, 8 Southwark Street, London, SE1 1TL
Nearest Tube Stop – London Bridge
http://www.boroughmarket.org.uk
The Hustle and Bustle of Brixton Market
The hustle and bustle and sheer amount of diversity at Brixton market makes it one of London's most spectacular foodie havens. It's not about neatly painted signs or quaint little cosy corners – it's about real life and living in a truly multi cultural city. You'll find Indian food, packed herbs and spices, fresh fruit and veg, Thai cuisine, Caribbean and Chinese food – to name only a few. All set off with the booming bass of reggae music being played, almost too loudly, from industrial speakers. If you're looking for culinary inspiration, this is the place to find it. Actually, whatever you're looking for, this is the place to find it! It's not just about the food. Brixton market is also home to imported fabrics, world music and anything they can find space for, you've just got to roll up your sleeve and get stuck in.
Once you've stuffed yourself with a variety of food (that probably shouldn't be consumed together) you can head to the nearby Ritzy Cinema to relax and check out a short film or see some of London's fines jazz and electronic music (5 nights a week, Wednesday to Sunday).
Address – Brixton Market, Electric Avenue, London, Brixton SW9 8JX
Nearest Tube Stop – Brixton Tube Station
Hipster Heaven at the Sunday Up Market – Brick Lane
Thankfully, not all of London's markets seem to have gained world-famous notoriety, and the Sunday Up Market is more of a local's hotpot than an over-hyped tourist attraction. For this reason the prices are still rock-bottom and the quality is sky-high. Housed in the Old Truman Brewery building, this edgy industrial space is filled with London hipsters dining on freshly prepared Moroccan dishes, typico Spanish Paella, hand-rolled-to-order Sushi roles, Caribbean classics and an endless list of other zesty world cuisine.
The market also hosts a huge range of individual fashion stalls, selling bespoke items that you literally won't find anywhere else on the planet. What's really great about it is that you can chat with the designers and get a real glimpse into the local culture and ethos – surely a better souvenir that your typical red bus fridge magnet?
Open every Sunday, 10am – 5pm.
Address – The Old Truman Brewery, Brick Lane, London, E1 6QL
Nearest Tube Stop – Shoreditch Tube Station
http://www.sundayupmarket.co.uk
Broadway Market – Sunglasses Mandatory
It's been said that Broadway Market is the locals' version of Borough market and it attracts younger, faster moving crowd. Located in the uber-cool, artist driven area of Hackney, Borough Market has the finest selection of speciality foods in London. Fresh seafood or world-class cheese, it really is the ideal place to while away your Saturday afternoon. Leave your pretences at the door and grab yourself one of London's finest burgers from Lucky Chip, or if the crowds get too much head to Climpson & Sons to treat yourself to a quality coffee. The beautiful canals offer the ideal place to rest and let your food go down, but don't forget your sunglasses!
Open and ready to roll every Saturday from 9am – 5pm.
Address – Broadway Market, London, E8 4PH
Nearest Tube Stop – Bethnal Green
http://www.broadwaymarket.co.uk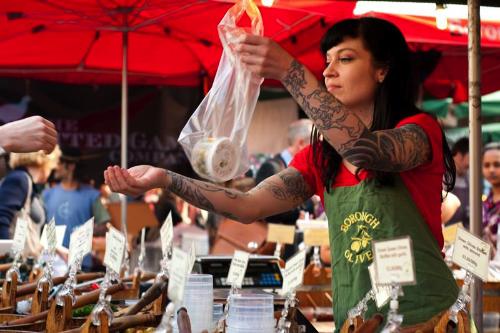 Naturally, as with everything in London, there's always more to discover, and these London markets are only a glimpse at the huge selection that's on offer. Wherever you decide to go, just remember to go hungry and be prepared to for a truly outstanding culinary experience.
This is a guest post by Ben. When he isn't exploring the city for hidden eateries and decadent coffee spots, you'll find him writing for the Hotel Club, who review the best and worst of London hotels.