All good chefs need to have suitable cooking aid to make their culinary skills exemplary. A chef should have a complete know how about kitchen knives and their uses. There are many kinds of knives that are used by a cook in the kitchen, each designed to suit a different purpose. Among them the top 10 must have models have been discussed here.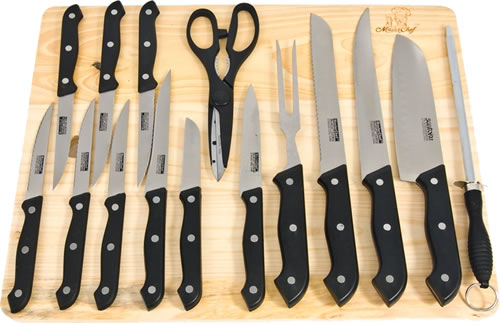 Utility Knife: These multi-purpose knives are very common and their use is for peeling, slicing and cutting salads, onions, bread and the like. Usually, the utility models are short and narrow with a blade length that is from 5″ to 8″, going up to 12″ maximum. The edge is very smooth for better cutting.
Chef's Knife: This is similar to an utility knife, although bigger, and are standard knives found in all kitchens. This knife is all purpose with a blade length varying from 6″ to 12″, and is purchased depending on the size of the cook's hands.
Butcher Knife: These are specialized knives that are excellent for chopping, especially meat, and hence the name. The 7″ to 10″ knife comes with a razor sharp edge that makes boning, carving and stripping easy. This knife can also be used for cutting bread, steak and cheese.
Cleavers: These knives are 6″ to 8″ long with a wide and thick blade to enable fine chopping. This knife is ideal for cutting meat lumps and even frozen meat can be chopped with this thick and sharp knife. The cleaver knives have a hole in one corner of the blade to hang.
Boning Knife: These knives are thin and short with a medium sized handle and a very strong blade. These are used especially to remove meat from the bone. Although a butcher knife is handy too the boning knife with the narrow blade makes boning easier.
Carving Knife: These knives come with a very long blade, 8″ to 10″, that is used for slicing meat, cooked or raw. These knives are ideal for carving roast pork, beef, chicken and lamb. The ones used for fish are slightly different with a narrower blade.
Slicing Knife: These knives are especially made for slicing bread, rolls and cakes. They have a narrow blade that is typically serrated and about 10″ to 12″ long. The tip of blade may be rounded.
Fillet Knife: These knives have a very long and thin blade that is 6″ to 11″ long and is meant for filleting. These are ideal for both fish and meat and can cut really thin slices because of the sharp long blade.
Paring Knife: These knives come with a short blade that is narrow and is about 3″ to 5″ long only. These are ideal for coring and peeling fruits and vegetables. The blade can be designed like a bird's beak or have serrated edge for peeling easily.
Palette Knife: This knife is very different and more than cutting, this is used for turning over items during cooking with the help of the blunt edge. It can also be used to lift items on to the plate from the pan. This knife can be used as a spreader for butter and cream.
The above mentioned kitchen knives are a must in every kitchen and help to make the life of the cook easier. Remember each knife has its purpose and is designed accordingly.
Author Bio: Maya is a part time writer and part time working in marketing for company that supplies wholesale knives. She loves to give advices, tips and how to's through her articles.