Easter is a popular time of the year.
It comes just after Christmas that sometimes it may feel like the families that
were just there to celebrate never left and now they need to be fed and
entertained all over again. It could be little too much especially if you
haven't quite recovered from December. Before you get overwhelmed with all that
you need to do, the first thing you should think about is how you are going to
feed all these people again. Families
gathering over Easter usually include everybody from the young to the elderly;
if this is your first time as a host you should be mindful of a couple of
things.
The cardinal rule is to cater to
everyone's taste and by taste we don't only mean to their particular palate.
For instance you might think of you family in term of the very old, the very
young and the in-betweeners. The very old will be your senior guests like
grandparents while your very young are the small children. These two require
special diets whilst the last group, the in-betweeners will probably eat
anything that is put out for them.
For
Senior People
Seniors have health concerns like
diabetes and heart disease that you will need to consider. They may not be the
only people so make sure that your Easter dinner menu
consists of as much healthy food as you can. You can cut out the sugar or use
an alternative sweetener. Put sauces on the side as well as salad dressings.
Be mindful of the texture and
consistency of the food you have. When in doubt find out how many older people
will be eating soft foods so you can cook and mash potatoes and cook meat until
it falls off the bone.
For
The Children
Allergies in children can be an issue
of life and death. You can only hope that parents who bring their children
along will have the decency of letting you know about their children' allergies
to nuts or eggs or milk or seafood beforehand. For their very sensitive
palates, hold off the use of spices and rather use herbs to add unique flavors
in your cooking. A child friendly menu also has a lot of sweets and chocolates;
it is after all a time for the Easter bunny to deliver those special sweet
eggs. Keep the egg hunts in mind when coming up with a theme for the children.
The in-betweeners are the group that
you have to impress. These could be adults and teens who might eat anything, but this food must be scrumptious and memorable. They will
not remember your dinner party for the egg hunts and little game you had
children participate in, or how gracious a host you were but they will remember
what you served from the starter course to the main, the cookies and desserts
and the drinks.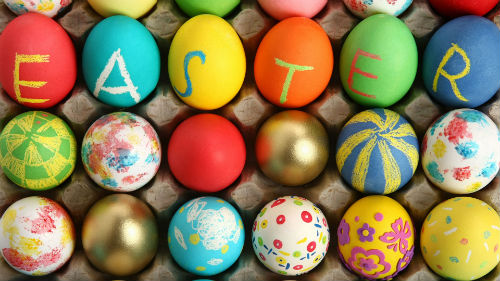 Now that we've covered the special
requirements that might crop up during Easter, here are some good menu ideas
for your Easter dinner:
Easter is associated with sweets and
chocolates which is why most of the time the food served at dinner tables is
sugary and syrupy.
Maple
Syrup Ham and Marshmallow Sweet Potatoes
You cannot go wrong with a ham, glazed
with some maple syrup. The combination of the salt from the ham and the
sweetness of the maple syrup make for an interesting combination. The best
maple syrup may come from Canada but even Canadian maple syrup is sold in
grocery store all over the world. The maple syrup should be just that, corn syrup
or any other syrup won't pull this dish off.
Maple syrup sweeten ham goes well with
sweet potatoes. You can put a twist to the potatoes by smothering the sweet
potatoes in marshmallows. Be sure to put out plain sweet potatoes for those who
don't like marshmallows. The children will rave about it and the adults can
choose whether to eat the marshmallowy sweet potatoes or those without.
Easter
Cookies
Cookies are a must in every kitchen on
Easter. You can make them fun by cutting
the dough into bunny shapes. You can decorate these anyway you want.
Even though chocolate bunnies are
pivotal to Easter, cookies can also be an excellent treat. Just like Christmas
cookies are fun to make and yummy to eat, so are Easter Bunny cookies. Most
grocery stores, discount stores, and craft stores sell Easter Bunny cookie
cutters to make your favorite chocolate chip or sugar cookie into some
fantastic Easter Bunny shapes.
Easter
egg Cup Cakes
Instead of Easter bunny cakes or in
addition to them you could make Easter egg cup cake. These you can serve at the
dinner table as dessert. To make these, use waffle cones as an alternative for
cup cake holders, put a marshmallow egg in first and cover it with the cup cake
batter. The marshmallow egg is the surprise filling you guests will get when
they bite through the center of the cup cake. You can substitute marshmallows
with chocolate or toffee candies. Once baked, add coloring, sprinkles, candy,
etc. to your creation.
These are some ideas that you can use
in your menu. Serve as much vegetable as you can and keep it fun.
Check out our selection of Easter Recipes.
Find out how you can Celebrate Easter.