Idli (pronounced /'idli/), is a
form of rice cake indigenous to Southern India. Idlis are prepared in steamers specifically
designed for rice cake preparation and are called, fittingly, idli steamers.
This
implement is known to have been in existence for more than 1,300 years!
Steamers now boast modern design and ease, while some remain more traditional.
Whether you want it quick or you get satisfaction from making a more
painstaking effort, there is a product for you.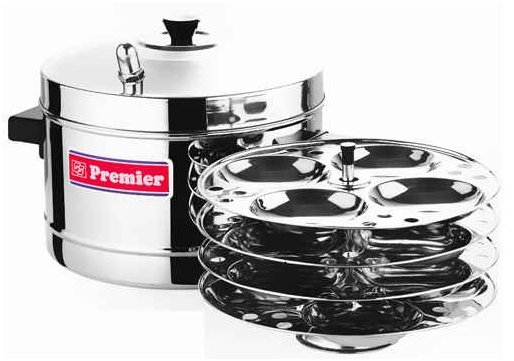 Those
who enjoy ethnic cuisine and have had the opportunity to try idlis invariably find them a pleasure to eat
and want to prepare this wholesome and healthy dish at home.
Let's
whet our appetites with a closer look at idlis. The cakes are
traditionally just a couple of inches in diameter but now range in size from
petite to jumbo. While Americans and the French enjoy pastries with tea or
coffee, the Indian tradition is to eat savory and spicy foods at teatime. Thus, idlis are enjoyed with chai or coffee.
The
cakes are made with a mix of rice and fermented lentils, providing a perfect
vegetarian blend of protein and carbohydrates. Options are plentiful and
include the addition of ingredients ranging from mustard seed, chile peppers, cumin, cilantro, ginger, coconut, unrefined
sugar, and more. Numerous types of chutney serve as condiments.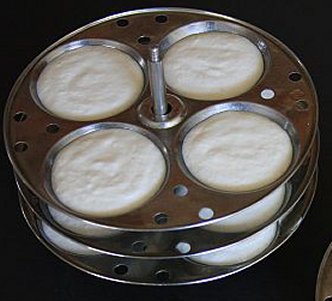 With
the wealth of choices available come an array of
steamer products. Consistent in design is the principle piece, a circular pan
with shallow bowls and steam vents. Whether the main body of the utensil is
electric or microwaveable or otherwise, this main feature has survived.
For
this article, let's focus on easy, modern options. Idleez and Akshaya are two companies that offer modern electric
steamers. While primarily for idli-making,
these can also be used for making hard-boiled eggs, steaming shellfish, and
freshening cooked rice. They range in price from $55-$60.
According
to some reviews, both companies offer the same steamer under two brand names. Most
reviews of these newer electric versions are positive with a couple of caveats,
mainly the need for a temperature indicator and an additional steam bowl.
Microwave
steamers are a good option for those with major time constraints. The Microwave LittleGenie, for example, is a three-tray kit for
twelve idlis and costs $34.99. It claims to make mini-pizzas as well, which is hardly a culinary adventure, but
could be useful.
A
quick search online reveals numerous options and a wide variety of price
ranges. You can find several companies offering competitive prices and free
shipping. If you would like to shop around, there are sites which offer discounts
for high volume purchases and sites which offer aluminum, stainless steel, and
microwaveable options at great prices. The Premier brand aluminum cooker
($29.99) received four stars from reviewers, as did Nayasa brand's microwave cooker ($16.79).
With
so many options available, you'll be sure to find something that suites your
lifestyle and tastes. Enjoy experimenting with your cooker and best of luck!