Chinese New Year is here! Chinese New Year differs in date each year because it falls on the first day of the lunar calendar. This year, in 2012, the first day of the new lunar year is January 23rd. The New Year season is also called the Spring Festival. The Chinese calendar heralds the beginning of the spring on this day. And you would also like to know that this Chinese New year is the year of the Dragon. And last year was the year of the rabbit.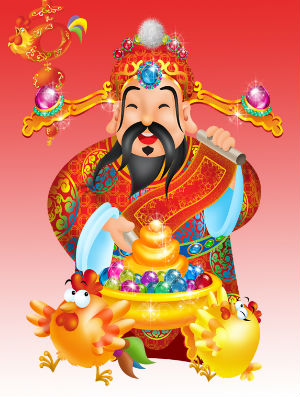 Oh, well, enough of useless trivia. What exactly this means for the normal everyday Chinese people? The working people take weeks of holidays like the Christmas season of the west and enjoy this time with their near and dear ones, feast a lot with their family and welcome the spring and New Year.
The Chinese are very traditional people and respect and acknowledge the presence of their ancestors on New Year's Eve. It is usually a family banquet table. They like to think that the spirits of the ancestors visit them and bless them and dine with them to celebrate the onset of the New Year. This type of communal feast is called "surrounding the stove" or weilu. It symbolizes family unity. It honours the past and present generations.
There are a number of festive Chinese foods that will help make any New Year's Eve celebration a success.
Try to wear something red – the Chinese believe red is a lucky color and wards off evil spirits. You may also want to hang decorative red lanterns – available at Asian markets. Oh heck, just visit EBay if you like. Decorate your houses with red and gold. The Chinese consider it lucky. It symbolizes man's victory over the evil beast.
Now, coming on to the most interesting aspect of this post, let us check out various dishes which people eat on Chinese New Year. If you want an entire list of Chinese recipes, click here. The main highlights of this day are below.
Kung Pao Chicken is a dish made from diced chicken, peanuts and chili peppers.
Peking duck consists of juicy slices of duck with a crispy skin, served with Mandarin pancakes.
General Tso's Chicken is yet another famous chicken dish; the peculiarity of this dish is that it was invented in the United States.
Sweet and Sour Pork is deep-fried in batter twice to make it extra crispy, and then stir-fried with pork and pineapple in a sweet and sour sauce. That's how it gets its peculiar taste.
Cantonese Roast Duck has a shiny reddish skin.
White Cut Chicken is poached in rice wine until it turns white and garnished with scallions. It is a popular dish because the white chicken symbolizes purity.
Clams in Black Bean Sauce are stir-fried in a savory mixture of black beans and ginger. In Chinese culture, clams symbolize prosperity because of their resemblance to Chinese coins.
Salt and Pepper Shrimp is a very colorful dish. The deep-fried shrimp shells turn a wonderful orange color, while the spicy seasoning adds extra flavor. The shells protect the shrimp meat during deep-frying, so that it tastes extra tender and juicy.
Lobster Cantonese has the tails cooked in a savory sauce flavored with Chinese black beans.
Cantonese Shrimp with Lobster Sauce actually has no lobster in it at all.
Sesame Chicken is not really an authentic Chinese dish, but is very popular during festive occasions. Chicken is deep-fried in batter, then finished in a tangy sweet and sour sauce and garnished with toasted sesame seeds.
Filled with delectable recipes, hands-on family activities, and traditional tales to read aloud, this extraordinary day of the Chinese is perhaps their greatest festival. It recreates magic. Tasty moon cakes are after all not restricted to fairy tales and wishing stories.
This is just a magical day of fun, frolic, victory, merriment and serenity for the Chinese. So, let us have fun too.