Flavorful, wholesome and nutritious dinners do not have to take a long time or require an excessive number of ingredients, and this recipe for Chicken with Balsamic Tomatoes demonstrates this idea perfectly. With only 7 ingredients and 30 total minutes of cooking time required, this is the perfect dish to throw together on a busy weeknight that tastes like you spent hours on it.
This dish is also an incredibly balanced meal; there is lean protein from the chicken breasts, high amounts of fiber from the multigrain pasta and Vitamin E from the tomatoes. Serve with a side salad or a vegetable side dish and you'll have covered all of the healthiest food groups. The balsamic vinegar is another healthy component to this dish since it is much lower in calories, cholesterol and fat than creamier sauces that may be made out of unhealthier ingredients like sour cream or mayonnaise.
Try out this dinner the next time you need an easy, healthy and fast meal. It's likely that you'll already have most of the ingredients in your cupboard or refrigerator, so extra grocery shopping is probably unnecessary. Enjoy!
Prep Time: 20 min – Total Time: 30 min – Ingredients: 7
Serving Size: 4 servings (1 breast with sauce and pasta each) – Calories per Serving: 486
Ingredients
8 ounces dry multigrain penne pasta, uncooked
2 tablespoons Pure Wesson® Canola Oil
4 boneless skinless chicken breasts (4 breasts should weigh approximately 1 lb)
1/2 teaspoon garlic salt
1/4 teaspoon ground black pepper
1 cup sliced onion
1 14.5 ounce can Hunt's® Diced Tomatoes with Basil, Garlic and Oregano, undrained
1/2 cup balsamic vinegar
Directions
Cook pasta according to package directions, omitting salt if you are trying to make a dish with lower sodium content.
While your pasta is cooking, heat your oil in a medium skillet over medium-high heat.
Sprinkle chicken with garlic salt and pepper on both sides.
Cook the chicken for 5 to 7 minutes or until browned, turning once.
Remove the chicken from skillet and set it aside.
Add sliced onion to the skillet and cook for 1 to 2 minutes over medium heat until it is crisp but still tender.
Add your undrained tomatoes and balsamic vinegar to the skillet; bring to a simmer.
Return chicken to the skillet and cook for 10 to 12 minutes more or until the chicken is no longer pink in the centers. If you are using a meat thermometer, the temperature should read 165° Fahrenheit.
Serve your chicken and sauce with the cooked pasta.
For easier eating and a cleaner presentation, slice each chicken breast before placing it on top of the pasta.
Other ways of serving this dish include eating the chicken breasts over rice or without grains at all.
For a low-carb meal, serve the chicken breasts with a green salad.
Additional adaptations to the recipe include sautéing fresh mushrooms and garlic with the onions and adding mozzarella or parmesan cheese over the top of the dish when completed.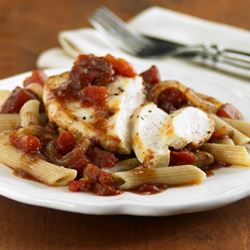 Meredith writes on behalf of ReadySetEat. Explore quick and easy dinner recipes and dinner ideas with ReadySetEat. Browse collections of recipes and discover fast, smart ways to cook dinner. For this recipe and other easy dinner ideas, visit www.readyseteat.com.