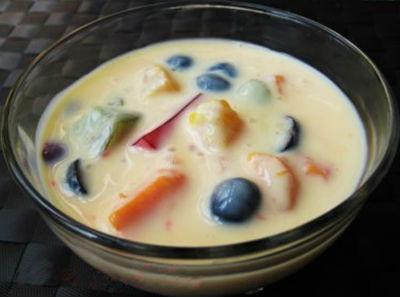 Ingredients:
Milk – 2 cups
Vanilla Custard Powder – 1 1/2 tblsp
Mixed Fruits – 1 cup, finely chopped (orange, apple, grapes, banana etc.)
Sugar – 4 tblsp
Honey – 1 tsp
Method:
1. Mix the custard powder with 1/2 cup of milk.
2. Heat the remaining milk over medium flame and bring to a boil.
3. Just before it begins to boil reduce flame to low and add the custard mixture.
4. Bring to a boil.
5. Add sugar and mix well.
6. Remove and keep aside to cool.
7. Add the mixed fruits and keep it in the fridge for an hour or two.
8. Serve chilled.
Fruit Custard

,