We know you are all dressed up for that special party you are going to host up. In general a cocktail party extends for two to three hours. So, you can mix any type of guests in a planned way and entertain them all in one single party.
So, we all know there are so many types of drinks which people have loved exclusively since centuries. And there are certain other types of people who make it a point to attend cocktail parties sipping that mocktail. So, we thought we would bring in a few popular categories for you to keep them all asking for more.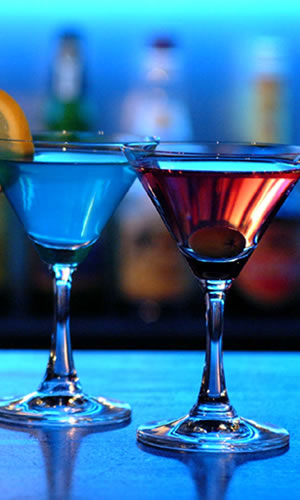 We found this awesome site, Easy Cocktail Recipes which really has a whole array of categories, drinks to quench every kind of thirst (no pun intended!). Below are those drinks with links to the recipe and those beautiful pictures of the drinks. Check them out.
Classic Cocktails – Be sure to check out The Black Marble, The Long Vodka and Blue Lagoon recipes. Au-revoir probably has a reason for its name which you can after looking at the ingredients.
Contemporary Cocktails – Maiden's Prayer made of Cointreau and Gin with orange and lemon juices has a story behind it. Check out the recipe link for the story which you could use to entertain your guests. Do you think Green Devil features demons and green dragons? Find out! Oh, and we also have a Blue Devil which has gin and varying quantities of lime juice.
Liqueur Cocktails – These names sure sound exotic, so do they taste. Jewel of the Nile uses two unique herbal liqueurs with over 130 herbs in them. Passion Cocktail is a French cognac based liqueur with a dash of passion fruit juice. Purple Mango Bongo has very little alcohol for knock out types.
Sparkling Cocktails – Go for Pear drops made of cooked pears and chilled champagne, tarty Mexican Fizz which has the flavor of tequila and of ginger ale, Typhoon made of gin and champagne with a dash of lime (oh, it definitely rocks up a typhoon, you only have to try it), Ritz 75 which is a recipe directly from the Ritz hotel bar in Paris.
Mocktails – Try Bloody January is the non alcoholic version of bloody Mary, Strawberry Delight made with raspberries and framboise liqueur and Angelina which is a delicious concoction made of canned pineapples. For fruity flavors, you should try Garden Party punch and Banana wine punch.
Do you need some tips to carry out your cocktail party to perfection?
Stock up on plenty of ice. A rule of the thumb is plan to have 1 kg of ice for every 4 guests.
Keep stock of an assorted type of glasses to serve all the 5 categories mentioned above. Stock on tumblers, wine glasses, martini glasses, and such. Have twice as many glasses as the number of guests.
For a 2-3 hours party plan on having 1 wine bottle for every three guests.
Stock up on all kinds of alcoholic drinks unless you are very sure of each guests preference. Vodka, whiskey, wines, beer, gin, tequila, rum, bourbon, vermouth, sherry, and brandy are a definite must.
Orange juice, soda, tonic, ginger ale, cola, tomato juice, lemons, limes, are a savior for those delicate drinkers.
It is a good choice to hire a bartender if the size of the party is huge.
Have lots of coffee and tea available and handy.
Keep the taxi numbers available and inform them in advance that you would be calling them for a sizeable number of taxis.
Avoid a lot of family.
Have a wide variety of foods available. Plan in such a way that all the dishes you choose can be prepared in advance. It should be fun, and there should be a wide number of dishes to choose from.
Keep an assorted collection of seafood, finger foods, and sweets. Though sweets are not typically cocktail party food, some guests do like to nibble on them. You would be surprised to find that this is the food which gets over the first. Have a lot of hors d'oeuvres that are not pieces like cheese and dips.
Isn't this the most exciting time of the year? Fun, cocktails, merriment and joy!
Party on, folks!