As a staple food across large swathes of the world, rice is often considered a somewhat unadventurous addition to any meal. But it makes a versatile base for many meals, and as a food which is great for providing a quick source of energy and essential vitamin B1, it is also known to have properties which can help defend against heart disease and high blood pressure. So it's little wonder why many of the people for whom it is an essential part of the diet can, and do, live very healthy lives.
In itself, though, there is little doubt that rice is very nutritious. It is high in carbohydrates, yet contains no cholesterol; the starch it contains aids healthy bowel movements; and brown rice is even said to contain levels of neuro-transmitters, nutrients which can be of benefit in helping prevent Alzheimer's disease.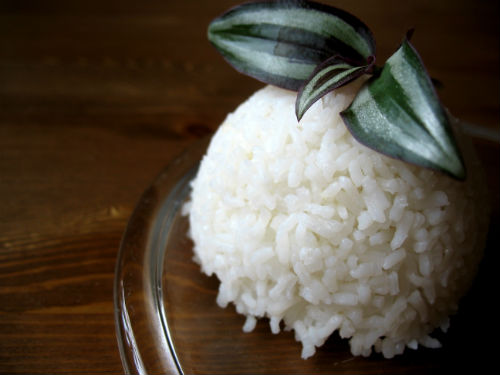 Curry
Where many people go wrong is teaming rice with rich and creamy sauces of all kinds. Of course perhaps rice's best-known use here in the UK is as an accompaniment to a curry. And while many of the sauce bases for a curry contain healthy spices and vegetables at their heart, they are bulked up by a lot of milk and cream – and this can turn what can be healthy basic ingredients into a meal with somewhat fewer health benefits.
A far healthier option than these sauces from a jar is to buy the spices contained in them in dried or powdered form, and then add water to make this the basis for a more nutritious curry.
Another big favourite, chilli con carne, can also be a healthy dish if you cook it using fresh or tinned tomatoes, fresh onion and lean minced steak.
Risotto
One of the favourite rice dishes around the world, risotto, can be a little more difficult to turn into a healthy option, usually containing as it does large quantities of parmesan cheese. However, by going easy on the cheese, and using chicken or vegetable stock as the base, the healthy properties of the dish can be greatly enhanced. This again applies especially if you add a good helping of fresh vegetables – such as baby sweetcorn and sugar snap peas – to your recipe, and use white meat or fish – chicken and prawns are ideal – as its base.
Sushi
The Japanese use a lot or rice as the basis for sushi. With fish and vegetables again as a base, this can make a nutritious meal which is as easy on the waistline as it is on the pocket. But not all sushi is healthy so it is important to be careful which you get. Any sushi roll with tempura in the name means that it is deep-fried. These rolls should be avoided at all costs as they are very high in saturated fats. Also for those of us that love soy sauce, try to use a lower-sodium sauce. But be aware, there is still a high amount of sodium even in lower sodium sauce, so use it sparingly. Stay away from these "bad" ingredients and Sushi can be a great addition to a healthy lifestyle
Create your own
The amazing thing about rice is that it goes with almost anything. Just take your favourite vegetables and combine them with a fat free sauce or dressing. Then add in some meat such as grilled chicken or pork if you want some added protein. The possibilities are endless. One of my personal favourites is broccoli rice casserole. But you should try your own combinations with rice. By adding rice to your favourite ingredients you can add new delicious meals to your diet every day.
Jaimy Howard is a freelance writer who is trying her best at losing weight and is offering her advice to fellow bloggers.