The history of South Africa has been tumultuous, to say the least. Even with the abolition of state-sanctioned apartheid, the nation has continued to struggle to find equality and prosperity for its inhabitants. However, it has opened up the culture to more amalgamation of different tastes. South Africa's food is perhaps the best illustration of the multitude of cultural influences that have passed through its plains. One can see indigenous ingredients as well as taste profiles from the Dutch, Indian, British, and even Portuguese immigrants.
Before colonization, indigenous tribes hunted wild game and gathered a variety of foods—fruits, leaves, nuts, and roots. Cattle and grain were introduced approximately two millennia ago, which gave the people access to meat on demand. Some native varieties of pumpkin were harvested, along with maize or grains. Upon occupation by Europeans, communal land was seized, restricting access to agriculture and crops. Meat became vitally important, and remains the central part of many meals to this day. Vegetarian travelers may find themselves in a bit of a bind, as the practice is virtually unheard of in parts of the country; serving a vegetarian meal to the locals may even be interpreted as an insult.
Colonists from Portugal, the Netherlands, France, and the United Kingdom brought their own cooking styles with them when they landed in South Africa, and many culinary contributions have remained to this day. The pioneers invented several foods out of necessity, such as Biltong, a cured meat that is still popular today. It is similar to beef jerky, but is made with anything from quail to ostrich and can be seasoned with a wide variety of spices.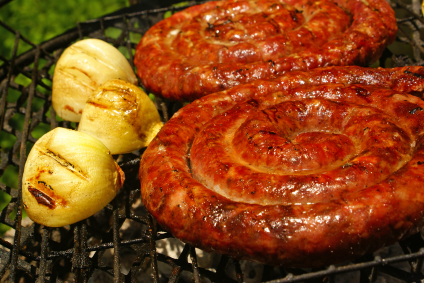 Cape Dutch Style
The settlers from the Netherlands, whose descendents are called Afrikaners, mixed their cooking styles with those of their servants during the colonial era. The resulting regional style of cuisine is known as Cape Dutch. It also draws flavors and ingredients from the East India Company slaves, which were brought in from Malaysia and Java.
The resulting style uses eastern spices such as nutmeg and allspice, as well as lots of curries. From the Cape Malay settlers came sambal, a chili sauce popular in Indonesia, and a variety of fish dishes. Indian laborers in the 19th century introduced the locals to chutneys, curries, and samosas, which are still overwhelmingly popular today. Bobotie is a widely-eaten dish, often called the national dish of South Africa. It consists of a minced meat, such as beef or lamb, that is spiced with curry powder, ginger, marjoram, and sometimes lemon rind. The mixture is baked with an egg-based topping and garnished with walnuts, bananas, and chutney on the side.
The cuisine of South Africa is a multicultural mash, which had a vitally important effect on the development of Afrikaans culture. As the Dutch settlers worked with their servants in the kitchens, they began to speak a patois language that was a mixture of Dutch and the traditional indigenous tongues. These were the original words of the Afrikaans language, and was called 'kitchen talk' by those still in the Netherlands. No matter the roughness of the history, the food is something special; like all nations, it brings people together.
Jamie Matzke represents Diamond Resorts International a leader in worldwide vacation resort destinations. Stay with us at Diamond Resorts Breakers Resort in the KwaZulu-Natal province of South Africa.